Heavy rain in central, southern Taiwan leaves one dead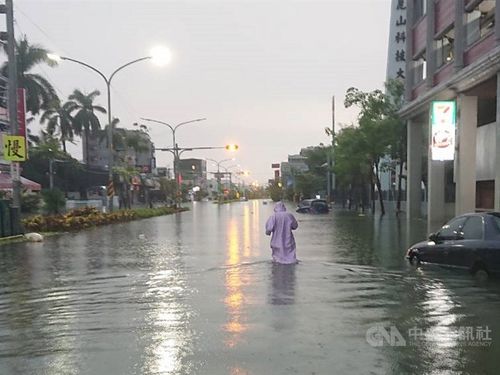 Taipei, Aug. 13 (CNA) Extreme heavy rain that has inundated central and southern Taiwan since late Monday has left one dead in Kaohsiung and caused flooding and power outages in Pingtung, officials said Tuesday.
The one fatality, a 36-year-old woman surnamed Lin (林), was found dead by rescuers at a water pumping station in the southern city's Gangshan District at 1 p.m. Tuesday after her family reported her missing when she did not show up for work.
An initial investigation suggests Lin might have fallen into a drainage construction site when heading to work on her scooter on Tuesday morning before the water carried her body to the pumping station about 500 meters away.
Lin is the only reported casualty caused by the extreme heavy rain that has swept through central and southern Taiwan since Monday, but it also caused flooding and power outages in other parts of the country.
As of Tuesday morning, the Central Weather Bureau (CWB) had issued heavy and extremely heavy rain advisories for Miaoli County, Changhua County, Nantou County, Yunlin County, Chiayi City, Chiayi County, Tainan, Kaohsiung and Pingtung County.
According to CWB data, from midnight Monday to 11:30 a.m. Tuesday, Rende and Guiren districts in Tainan recorded more than 300 millimeters of rainfall, and Chunri District in Pingtung County and Jiading District in Kaohsiung recorded over 220mm.
Extremely heavy rain refers to 200mm of rainfall over 24 hours and 100mm of rainfall in a three-hour period, according to the CWB.
A power outage was reported in Pingtung County late Monday, impacting 20,882 households.
The power supply was not fully restored until Tuesday noon, according to Taiwan Power Co., after it sent personnel to fix the damaged power lines.
Meanwhile, flooding in Kaohisung City, Pingtung County, Tainan City and Yunlin County temporarily disrupted traffic.