Schools, offices closed in Tainan due to flooding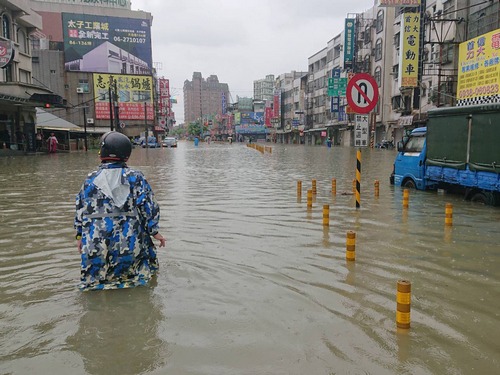 Taipei, Aug. 13 (CNA) Offices and schools in Tainan were closed Tuesday because of severe flooding in some areas of the southern city caused by overnight thundershowers.
The sporadic but intense thundershowers started late Monday night and lasted until Tuesday morning, causing flooding in several low-lying parts of the metropolitan area, including Yongda Road and Kunda Road in Yongkang District, Taizi Road in Rende District, and Yuyi Road and an underpass on Yunong Road in East District.
Vehicles were unable to get through those flooded areas, which saw up to thigh-high water levels, including at the intersection of Kunda and Dawan Roads outside Kun Shan University.
Some stores in the flooded areas were inundated as water levels rose. One store owner told CNA that the water started flowing into his shop at about 3 a.m. and that water continued to flow in later in the morning despite the use of anti-flooding devices.
The Tainan city government activated its emergency response mechanism at 5:30 a.m., and Mayor Huang Wei-cher (黃偉哲) announced the office and school closings one hour later, citing traffic bottlenecks.
Meanwhile, neighboring Kaohsiung also saw heavy thundershowers early Tuesday morning, which caused flooding in Gangshan and Hunei districts.
The thundershowers caused power outages in 3,733 households in Yong'an and Mitou Districts, Wu Chih-cheng (吳志城) of Taiwan Power Company's (Taipower's) Kaohsiung office told CNA.
Power outages were also reported in Pingtung County, where 21,024 homes were without power overnight after power cables were damaged by thundershowers during the heavy rain, according to Taipower.
As of 8 a.m., power had been restored to all but 1,873 households in Pingtung, the company said.
Schools and offices were closed in mountainous Chunri Township because of landslides on mountain roads triggered by the heavy rain.
The Central Weather Bureau attributed the downpours to southwesterly winds and said the thundershowers will continue in central and southern Taiwan for the rest of Tuesday but will gradually weaken.
On Tuesday, daytime temperatures will reach 32-36 degrees Celsius around Taiwan, with the highest temperatures expected in Taipei and Taitung County, the bureau said.