Annual temple fair kicks off in Kinmen County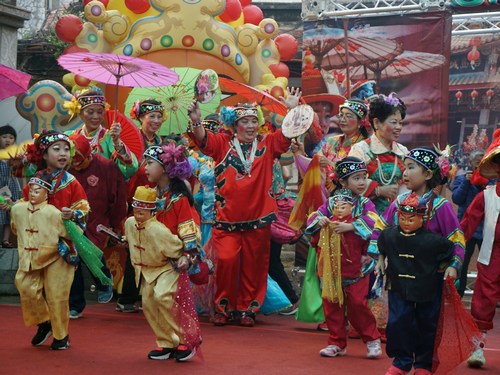 Taipei, April 22 (CNA) An annual City God festival featuring religious culture and tourism kicked off Saturday in the outlying county of Kinmen, with the concept of wildlife conservation highlighted during this year's festivity.
The opening ceremony of the festival started at the Wudao City God Temple in Jincheng Township following a procession including palanquins bearing statues of deities, parade floats and a centipede troupe, along with other folk performance groups.
Kinmen Magistrate Yang Cheng-wu (楊鎮浯) said that a series of events will be held during the one-month festival, including folk activities and performances to be staged by traditional temple performers from various boroughs and villages around the county.
This year, an activity to raise public awareness of conservation of the Eurasian otter will be highlighted during the festival with the aim of making people aware of the crisis facing the species, according to Yang.
In addition, a carnival of the "centipede seats," which is a parade of children dressed as Taoist deities carried on palanquins will be held May 11 and a naming activity for two otter pups will take place at the Wudao City God Temple May 25.
The theme of the festival is to celebrate the birthday of Cheng Huang, the island's city god, on the 12th day of the fourth month of the lunar calendar and a parade is held annually during the temple fair, according to Lee Cheng-chih (李誠智), the head of Jincheng Township.
In recent years, tourism elements have been infused into the festival, now in its 339th year, to make it a grand cultural festival, attracting tourists from both sides of the Taiwan Strait.
The Wudao City God festival, with its rich Minnan temple culture heritage from southern Fujian Province, is the first government-recognized significant folk activity on Taiwan's outlying islands.
In 2013, the central government designated the festival a significant temple event, according to the Kinmen County government.
Kinmen is located just 10 kilometers from China's southeastern coast.
Although Kinmen is a small island, it has more than 300 shrines and temples. The Wudao festival is the largest temple festival of its kind, featuring folk operas, arts groups, gong-and-drum performances and puppet shows.