Tibetans in Taiwan commemorate anti-China uprising in Taipei march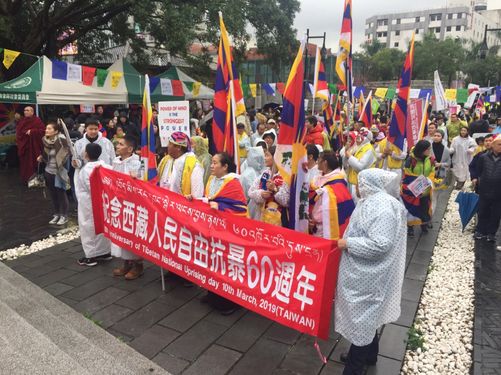 Taipei, March 10 (CNA) A group of Tibetans on Sunday called for more international support to help end decades of Chinese oppression in Tibet during a parade in Taipei to mark the 60th anniversary of an uprising against Chinese rule in 1959.
Citing a statement by Tibetan political leader, Lobsang Sangay, earlier in the day, Dawa Tsering, who represents the Tibetan government in exile in Taiwan, called upon "freedom-loving people of the world to commit to end oppression in Tibet and to commit to fight against impunity."
"To Tibetan people everywhere, let us continue our commitment to struggle for justice. Let us continue to strengthen our resilience so we can be united with our brothers and sisters in Tibet in freedom," Dawa Tsering said during his address before the parade began.
Dawa Tsering was quoting the address by Lobsang Sangay, president of the Central Tibetan Administration (CTA), made earlier in the day in India on the 60th anniversary of a Tibetan uprising against Chinese rule.
CTA represents the Tibetan government in exile.
According to the Taipei-based Human Rights Network for Tibet and Taiwan, the People's Liberation Army of China invaded the east of Tibet in 1949, and forced the Tibetan government to sign the "Seventeen-point Peace Agreement" in 1951, reaffirming China's sovereignty over Tibet.
This led to a widespread uprising in Tibet on March 10, 1959. Tibet was subsequently annexed by China.
Since then, the Tibetans have lost their freedom and human rights, and they have been subjected to discrimination and many have been tortured and killed since the annexation, the network noted.
In a speech before the parade began, Wu'er Kaixi, a student leader of the 1989 Tiananmen Square pro-democracy movement, warned Taiwanese that given Tibet's experience, where tens of thousands of Tibetans, including the Dalai Lama, were forced into exile, not long after Tibet reached a peace agreement with China, Taipei should not sign a similar peace deal with Beijing as proposed by the opposition Kuomintang.
Meanwhile, the parade organizers also called on Taiwanese to sign an online petition supporting a visit by the Dalai Lama to Taiwan.
The Dalai Lama's last trip to Taiwan was in 2009, when he came to pray for survivors and the 789 people who died in Typhoon Morakot, one of the deadliest natural disaster in the country in recent years.
Taiwan's ruling Democratic Progressive Party has already expressed support for such a visit but the government said it has not received any indication the Dalai Lama will make such a trip anytime soon.
Sunday's parade, attended by more than 100 Tibetans in Taiwan and their Taiwanese supporters, began at 228 Peace Memorial Park around 2 p.m.
Participants carried banners while shouting "Free Tibet" in different languages during the parade before the event concluded around 4 p.m. at Nishi Honganji Relics Square in Ximending where a white silk scarf called a khata was presented to a large framed photograph of the Dalai Lama as a respectful greeting to the Tibetan spiritual leader.