Migrant industrial workers, home caregivers see mixed income growth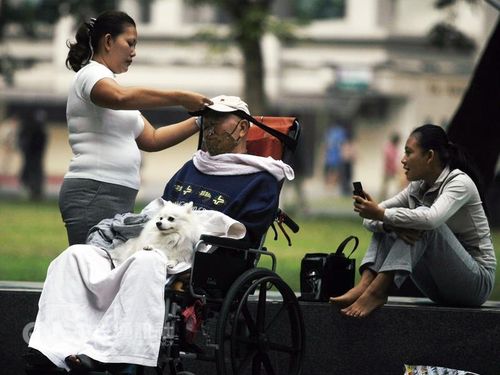 Taipei, Jan. 7 (CNA) Migrant industrial workers saw their income increase and working hours fall in June 2018 from the same month in the previous year, while migrant household caregivers saw a decline in income but a rise in working hours, according to a survey released Monday by the Ministry of Labor.
The average monthly earned income for migrant industrial workers in June 2018 was NT$27,788 (US$917), up from NT$26,308 in the same month the previous year, while that for migrant household caregivers was NT$19,927, down from NT$20,073 year-on-year, according to the survey.
Earned income includes regular wage plus bonuses, overtime pay and other irregular income.
Meanwhile, the average regular wage for a migrant industrial worker in the month was NT$22,597, up from NT$21,797 a year ago, while that for migrant home caregivers was NT$17,765, down from NT$17,955 year-on-year, the survey shows.
In terms of working hours, migrant industrial workers worked an average of 195.3 hours per month in June 2018, compared with 210.5 in June 2017, while caregivers worked an average of 10.2 hours a day in the same month, compared with 10 hours a year earlier, according to the survey.
The survey indicates that 78 percent of those who employ household caregivers give no stipulation as to working hours per day, though 96 percent allow a break of at least eight hours a day. Meanwhile, 65.3 percent of employers give their employees paid time off and if they choose not to take it, 99 percent give overtime pay.
When asked about the "one day off every seven days" policy for migrant caregivers, 69.0 percent of employers said they will adopt alternative measures if the policy comes into effect, with 87.2 percent saying they will rely on family members to provide care when their caregivers have days off.
Meanwhile, 30.4 percent of employers said they would apply for government subsidies so their migrant caregivers can have a regular day off every seven days and 66.9 percent of employers indicated a willingness to pay NT$500-NT$1,200 per day when employees have regular days off, according to the survey.
In addition, 39.8 percent of employers of migrant industrial workers and 29.8 percent of employers of migrant caregivers said they had encountered employment related difficulties, mainly due to difficulties communicating.
The survey on the management and deployment of migrant workers, including household caregivers and industrial workers in the manufacturing and construction sectors, was conducted from July to August 2018, with 8,653 valid samples collected, including 4,611 from business employers and 4,042 household employers.