Taiwan to start amnesty program for overstaying foreign nationals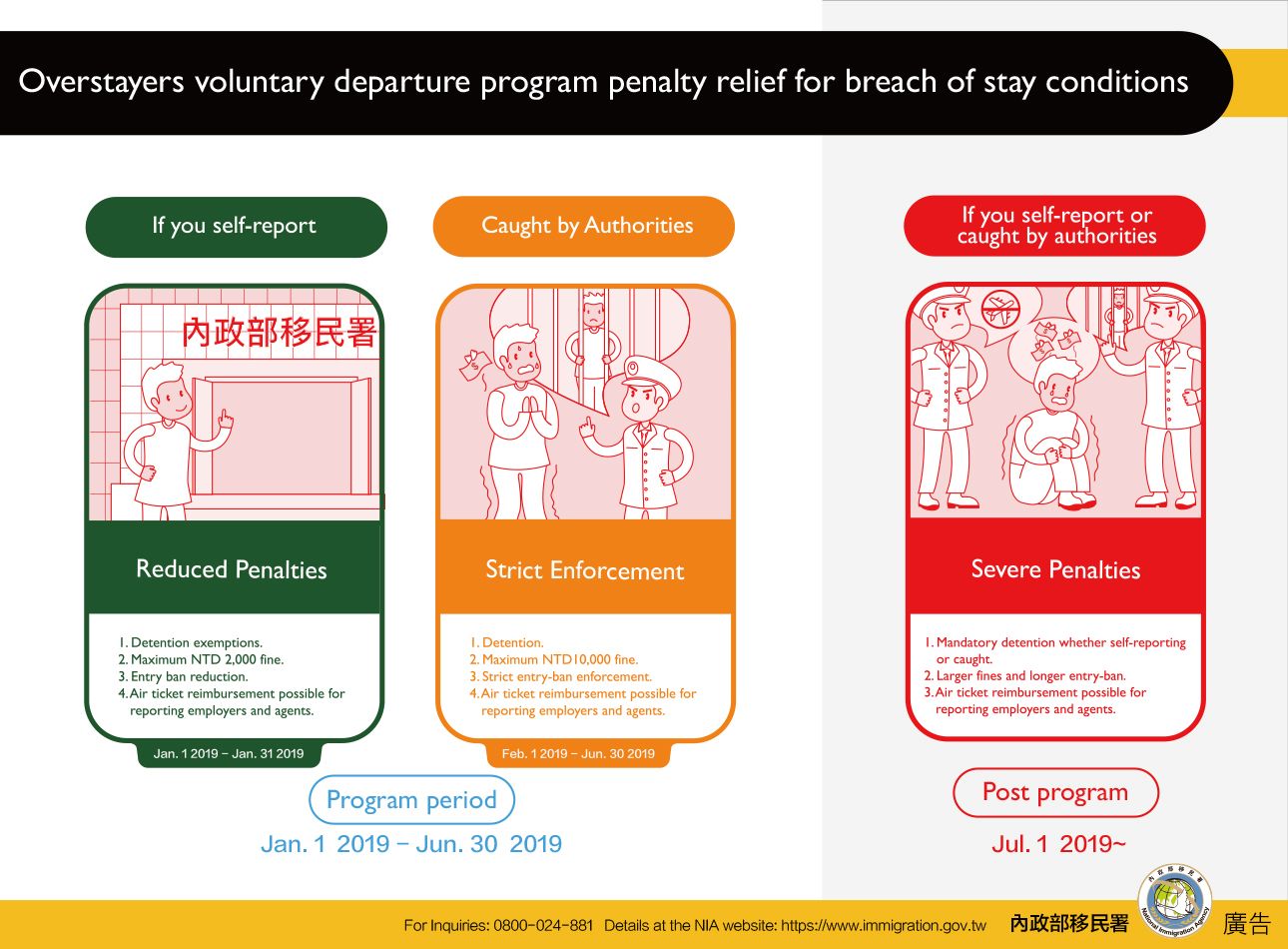 Taipei, Jan. 6 (CNA) Taiwan will soon introduce a five-month amnesty program for foreign nationals who have overstayed their visas, allowing them to pay smaller fines once they report to immigration authorities during the grace period, the National Immigration Agency (NIA) said Sunday.
At a press conference, NIA Director General Chiu Feng-kuang (邱豐光) said the number of overstays has been on the increase and had reached 88,000 as of October 2018.
In a bid to deal with the situation, he said, the NIA has decided to give overstaying foreign nationals a five-month period of amnesty, from February to June, during which they will be subject to a reduced fine and shortened reentry ban if they report to the relevant authorities.
In such circumstances, there will be no mandatory detention, while the maximum penalty will be NT$2,000 and an reentry ban compared with detention, a maximum fine of NT$10,000 and an entry ban of eight years for those who do not voluntarily contact immigration authorities, Chiu said.
According to the NIA, the largest number of overstaying foreign nationals in Taiwan are migrant workers, who accounted for 51,982 of the total as of Nov. 2018. Of that number, 24,267 were Vietnamese and 24,176 Indonesian, the NIA said. The agency said it also encourages overstaying foreign nationals to report to authorities about brokers and employers in Taiwan who hire illegal workers.
Legal action will be taken against such employers and brokers, and they will be made to pay the cost of the departure flights for their illegal workers, the NIA said.
When the five-month amnesty period ends in June, the penalties against overstaying foreign nationals will increase, in line with impending law amendments, the NIA said.
The announcement of the amnesty program followed a recent disclosure that since last month a total of 148 Vietnamese tourists in Taiwan had failed to show up with their tour groups.
As of Sunday, there was no record of the whereabouts of 104 of them, Chiu said, adding that they will not be eligible to take advantage of the new amnesty program.
The Vietnamese visitors had entered Taiwan on a special government program that was launched in 2015 to foster closer ties between Taiwan and selected nations and was later incorporated into Taiwan's New Southbound Policy, which is designed to strengthen ties with Southeast and South Asia.
The toll-free hotline for overstaying foreign nationals to voluntarily report to immigration authorities and for people to report on brokers and employers hiring illegal workers is 0800-024-881, the NIA said.
The English-language details of the amnesty program are accessible at https://www.immigration.gov.tw/5475/5478/6928/146024/