Temperatures to plummet with arrival of cold air mass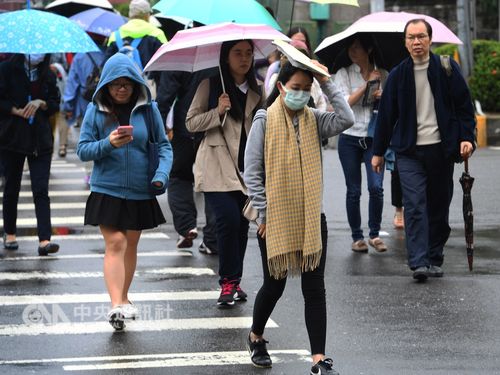 Taipei, Dec. 27 (CNA) Northern Taiwan will see wet and cold weather Thursday as a continental cold air mass arrives, the Central Weather Bureau (CWB) said Thursday.
Northern and northeastern Taiwan can expect daytime highs of 19-21 degrees Celsius, with intermittent heavy rainfall forecast in Yilan and in areas from Taoyuan northward, the CWB said.
Hualien and Taitung will see intermittent showers with daytime temperatures of around 23 degrees, while sunny to cloudy skies are expected to prevail in central and southern Taiwan, with daytime highs of up to 28 degrees, the CWB added.
Temperatures, however, will plummet to 14-17 degrees across the island at night, the bureau said.
Meanwhile, the air quality in the north, Hsinchu, Miaoli, Yilan, Hualien, Taitung and the outlying Penghu islands will be good to fair Thursday, while the Air Quality Index is likely to flash an orange alert, meaning unhealthy for sensitive groups, in Kaohsiung and Pingtung due to a lack of wind to disperse atmospheric pollutants, according to the Environmental Protection Administration.