People with dementia can still lead normal lives: expert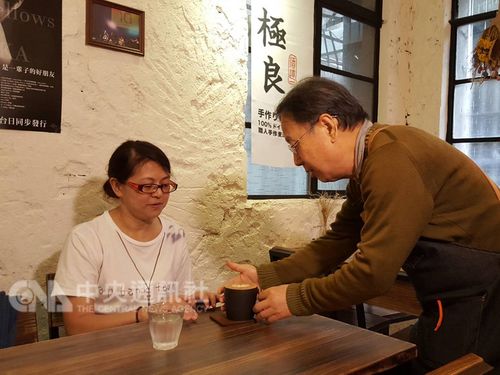 Taipei, Nov. 3 (CNA) A person living with mild cognitive impairment should take advantage of the available treatments, and continue to lead their normal lives such as attending social activities, and even work, secretary general of the Taiwan Alzheimer Disease Association (TADA) Tang Li-yu (湯麗玉) said Saturday.
There are roughly 270,000 people in Taiwan currently with dementia and almost half of them suffer from mild cognitive impairment to the early stages of dementia, Tang said.
There should be no reason as to why they cannot continue to contribute to society, she added.
Tsang Tao-cheng (臧道正), who operates the Youmoutoohana Coffee shop in Taipei, said he totally supports helping people with early-onset dementia search for ways to utilize their abilities.
Speaking of his 75-year old employee called Chang Hung-cheng (張宏成), Tsang said arranging appropriate working conditions for people with dementia will help create a society that accommodates many dementia patients.
Chang, a retired high school physics teacher who serves as a waiter at the coffee shop, said he enjoys his job because it allows him to interact with all kinds of people, and is grateful that he is able to do something he enjoys after retirement, despite suffering from early stages of dementia.
According to his wife Hsieh Min-lan (謝敏蘭), her husband was diagnosed with the disease two years ago. There was a period of shock, but that her family still managed to overcome the challenges, she said.
Meanwhile, she thanked the TADA for helping her husband get back to his feet.
The TADA encourages local businesses to hire more people with dementia, Tang said, expressing hope that they can help support dementia patients become functioning members of the society.