One American, one Taiwanese arrested in murder of Canadian man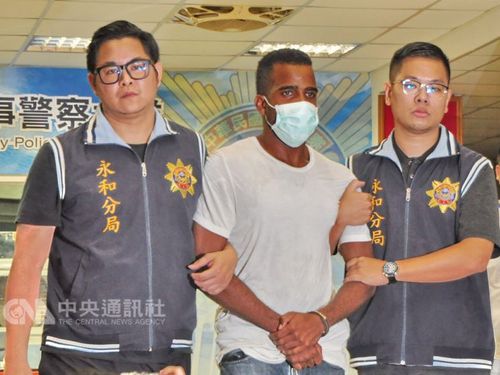 Taipei, Aug. 26 (CNA) Two suspects in the gruesome murder of a Canadian national in New Taipei last week were ordered to be held incommunicado Sunday morning -- several hours after their arrest -- on suspicion of involvement in the homicide.
New Taipei district prosecutors ordered the extended detention of an American national and a Taiwanese man after interrogating the two suspects, believing if released they could concoct a bogus alibi or flee.
The Canadian victim was identified as Ramgahan Sanjay Ryan, 43, who resided in New Taipei's Yonghe District. His dismembered torso was discovered on a riverbank under Zhongzheng Bridge in the district Wednesday.
Ryan's limbs and head have since been recovered from the Xindian River, where police recovered an arm and foot on Saturday.
New Taipei police said Saturday they and district prosecutors organized a special investigative team soon after the torso was discovered, beginning efforts to collect evidence and relevant CCTV footage.
After a search of the crime scene, police found two machetes, which based on a tentative comparison of the wounds to the torso they believe are likely the murder weapons, though that has yet to be confirmed by forensic examination, said Lin Chen-jui (林振瑞), an investigation division chief at Yonghe Police Precinct at a press briefing on Saturday.
Police traced the sale of the machetes to a hardware store in Taipei's Wanhua District and a Taiwanese man surnamed Wu (吳) on Aug. 18, Lin said.
They then identified the American suspect with evidence from eyewitnesses, CCTV footage, communication records and satellite positioning data, which confirmed he was in the vicinity, Lin said.
On Friday police apprehended the American national and Wu, Lin said, adding that police are still searching for a third suspect who remains at large.
Tabloid Apple Daily reported Sunday that the American suspect is Ewart Odane Bent, 30, and the Taiwanese was identified as 21 year-old Wu Hsuan (吳宣). Both men have denied any involvement in the crime, the report said.
However, initial results from the investigation indicate the homicide was planned in advance, with the suspects believed to have been acquaintances of Ryan. Wu is believed to have purchased the machetes and given them to the American suspect to commit the crime, according to police.
Police believe that knowing Ryan often walked his dog in the area, the suspects laid in wait in the riverbank area where they ambushed the victim. Police also believe the place where Ryan's torso was found was also where he was killed.
However, police have yet to determine a motive for the crime, whether Ryan was chained before being killed and how many people were involved in the murder, they said.
At the Saturday press briefing, Lin said police have identified another suspect and issued an order preventing the person leaving the country until interviewed and cleared of involvement.
Lin added that the American national has denied any involvement in the crime while Wu admitted to buying the machetes and giving them to the American but said he had no knowledge of what they were used for.
Ryan had lived in Taiwan for approximately 10 years and his Taiwanese wife drowned last year during a trip to a beach in Yilan. He was also previously arrested for possession of marijuana.