Court rejects lesbian marriage appeal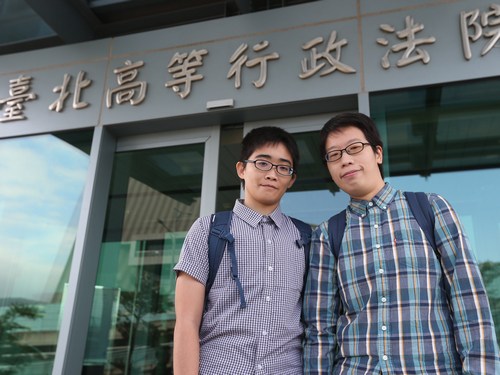 Taipei, Dec. 27 (CNA) The Taipei High Administrative Court rejected Wednesday an appeal by two women against the Taipei City government's refusal to approve their marriage.
The two women, Liang Tzung-huei (梁宗慧) and Chu Pei-shuan (朱珮諠), filed the appeal after their request to register as a married couple was rejected by the Household Registration Office in Taipei's Zhongzheng District in 2014.
The couple asked the court to overturn the decision by the registration office and validate their marriage.
The court said in a statement that even though the Council of Grand Justices ruled in May that the Civil Code's current definition of marriage is unconstitutional and requested that the Legislative Yuan amend the law within two years, it could not grant the request by Liang and Chu, on the grounds that it does not have the authority to pressure household registration offices into recognizing such marriages.
The ruling was made because the legal framework for same-sex marriage has not been promulgated into law and the two-year deadline has yet to be reached, according to the statement.
In response, Liang and Chu said they will appeal the decision.
The couple were part of a group of 30 same-sex couples who went to city offices in August 2014 to apply for legal recognition of their marriages.
After they were turned down, three of the couples decided to take further legal action in 2015.
Hearings for Liang's and Chu's case began in April 2015 but the case was suspended to await the results of a constitutional interpretation regarding the legality of laws prohibiting same-sex marriage in Taiwan.
In October, a case filed by another same-sex couple -- Fang Min (方敏) and Lin Yu-li (林于立) -- to register their marriage was rejected by the court.