Taiwan, Dominican Republic crack fraud ring targeting Chinese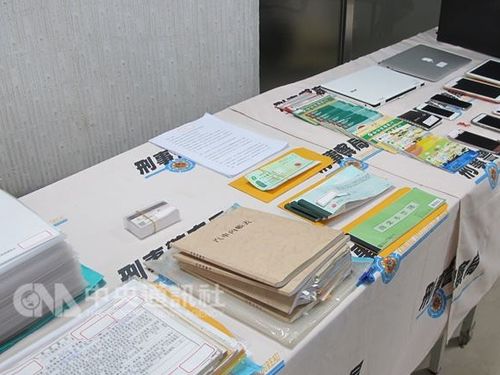 Taipei, Dec. 11 (CNA) Taiwan and the Dominican Republic have jointly cracked down on a Taiwanese-funded cross-border telecom fraud ring that set up its computer system in the Caribbean nation and preyed on Chinese nationals, the Criminal Investigation Bureau (CIB) said Monday.
Wu Tung-wen (吳東文), the deputy chief of CIB's 7th Investigation Corp, said at a press conference that police nabbed 31 Taiwanese suspects, including the main suspect surnamed Liao (廖), in raids in September and early this month covering 42 locations across Taiwan.
They also seized NT$8.3 million (US$276,450) in cash, six automobiles, a batch of mobile phones and notebooks, and written guidelines on fraud procedures during the raids, Wu said.
At the same time, police have filed a request with the Taichung District Court for an attachment to seize 10 properties valued at over NT$140 million owned by the 36-year-old Liao, who runs a car company in Taichung, Wu said.
The investigation is being expanded to criminal activities ranging from fraud and money laundering to tax evasion, the scope of the victims, and the flow of illicit money, he said.
The case was exposed after Taichung police discovered information last year related to a money laundering center in Taichung.
Following the lead, police found those working at the center were part of a fraud ring that set up their computer facilities in the Dominican Republic with funds wired from Taiwan by Liao, the CIB said.
From that facility, telephone calls were made to randomly selected individuals in China in an attempt to swindle them, the CIB said.
After an investigation that lasted for more than a year, the CIB found that apart from Liao, a man surnamed Chang (張) was responsible for transmitting illicit funds to dummy bank accounts in the United States and the Dominican Republic.
Another key player in the scheme was a Taiwanese man identified only by his surname Huang (黃) who held a Dominican Republic passport and worked out of that country, police said.
Huang was hired to take charge of the telecom operation and pay the local expenses of Taiwanese brought there to impersonate Chinese police on the phone calls to potential Chinese victims.
Soon after learning of the suspected fraud activity on their soil, Dominican Republic police were happy to help Taiwan with the investigation and the collection of evidence, the CIB said.