Court dismisses lesbian couple's same-sex marriage lawsuit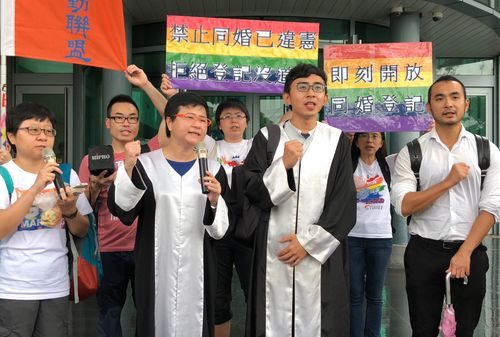 Taipei, Oct. 12 (CNA) The Taipei High Administrative Court on Thursday dismissed a lesbian couple's lawsuit against the city's Zhongzheng household registration office for rejecting their application for marriage registration, quashing a case that dates back to 2014.
According to a statement of the court, the Zhongzheng household registration office currently lacks the legal authority to register same-sex couple Fang Min (方敏) and Lin Yu-li (林于立) as married, even after Taiwan's Constitutional Court issued the historic interpretation of the Constitution deeming the prohibition of same-sex marriage as unconstitutional.
The reason, the court pointed out, is that while the Constitutional Court has ordered the Legislature to amend existing laws to legalize same-sex marriage, such an amendment has not taken place yet, so under current laws, same-sex marriage is still illegal.
Furthermore, since the court gave lawmakers two years to amend existing laws and the alloted period has not elapsed, the household registration office does not have any basis to register the couple even if it wanted to.
However, as Chang Wan-yi (張琬宜), director of the Department of Household Registration, stated in an interview Thursday, once the two-year period for the Legislature to amend the Civic Code is over, same-sex couples will be able register.
Plaintiffs Fang and Lin were one of the three couples who filed a lawsuit against the Zhongzheng household office after attempting unsuccessfully to register their marriages at the office on Aug. 1, 2014 with 29 other same-sex couples.
Hearings for their case began in April 2015 but the case was temporarily suspended to await the results of the constitutional interpretation regarding the legality of laws prohibiting same-sex marriage in Taiwan.
The historic Interpretation No. 748, issued this year on May 24, ruled that the prohibition of same-sex marriage in Taiwan's Civil Code violates the Constitution. The Constitutional Court gave the Legislature two years to amend existing laws or pass new ones to protect the marriage rights of same-sex couples.
An LGBT rights group responded to the Thursday ruling with a statement calling the situation appalling.
The statement condemned lawmakers for not making any progress in the nearly half a year's time that have passed since the Constitutional Court's interpretation, saying that if they continue to delay amending the existing laws, there may be many cases of same-sex couples never being able to register their marriage within their lifetime.
"If this happens, the Taiwanese public will not forget the position you have chosen for yourself on the issue," the statement read.
The group also called on the government to amend existing laws as soon as possible and not wait until the two-year deadline is up.