Violence erupts outside Legislature over pension reform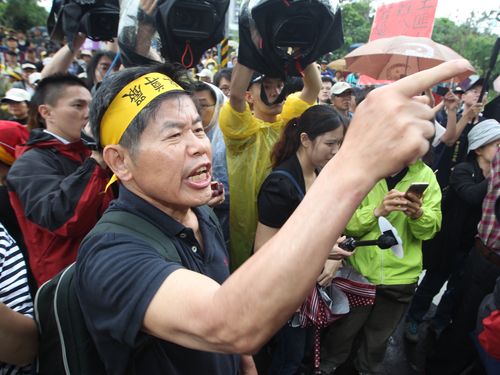 Taipei, April 19 (CNA) Violence erupted outside the Legislative Yuan on Wednesday as hundreds of anti-pension reform demonstrators went full force to block lawmakers from reviewing several versions of a pension reform bill.
Following an overnight sleepover protest against the pension reforms, protesters composed mainly of public servants, teachers and military personnel rallied outside the Legislative Yuan complex, shouting anti-pension reform slogans, blocking legislators from entering the complex and sparking sporadic clashes.
National Police Agency Director-General Chen Kuo-en (陳國恩) said police arrested lawbreakers, gathered evidence and will take legal action against those who violated the law.
Taipei police said seven police officers were injured in the clashes, and several lawmakers, mayors and magistrates were pushed, shoved and beaten by angry protesters.
A satellite news gathering vehicle was also damaged during the clashes, the police said, adding that 25 people are suspected of inciting the violence.
President Tsai Ing-wen (蔡英文) said at the Presidential Office that violence will not be allowed to slow down pension reforms and that anyone who engages in violence will be held accountable for their actions.
She called on public servants, teachers and military personnel to support the government's efforts to push for pension reforms, given the crucial role of a sustainable pension system as a cornerstone of national fiscal sustainability and generational justice.
Later that day, the ruling and opposition parties agreed to hold two public hearings, one on April 26 and the other on April 27, before sending the pension reform bill for an article-by-article review.
Lin Junq-tzer (林政則), one of the opposition Kuomintang's vice chairmen, criticized the police for putting up barricades at the Legislative Yuan and for "treating the protesters like bandits."
He said public servants, teachers and military personnel have made great contributions to the country and are taking to the streets to fight for their rights.
A retired teacher, who wished not to be named, said he has two children to support and that if his pension is cut he might not be able to afford his family's living expenses and his children's school fees.
(By Chu Che-wei, Hsieh Chia-chen and Christie Chen)ENDITEM/J