Yulon Group donates NT$10 million to help Tainan quake victims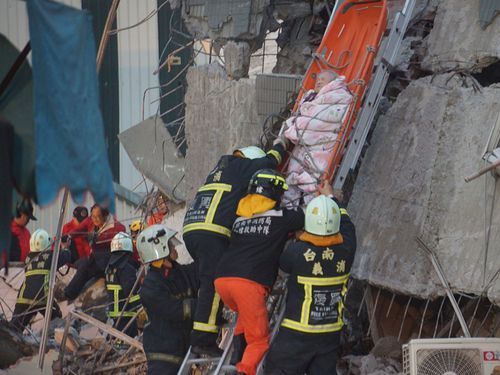 Taipei, Feb. 6 (CNA) Yulon Group (裕隆集團), Taiwan's leading auto maker, Saturday announced to donate NT$10 million (US$300,000) to help with rescue efforts for a strong earthquake that hit southern Taiwan and killed at least five earlier in the day.
Yulon said that soon after being informed of the disaster, Kenneth Yen (嚴凱泰), chairman of the car making conglomerate, instructed the group to provide financial assistance to the needy who suffered in the earthquake.
The 6.4-magnitude quake struck southern Taiwan at 03:57 a.m, causing collapses of several buildings in Tainan, including a 16-story one in Tainan City's Yungkang District. In addition to killing five at the least, the tremors injured no less than 300 and trapped many others.
The Cabinet has set up an emergency disaster relief center and worked with local governments in rescue efforts to help the victims and rebuild their homes after the earthquake hit.
Yulon, which manufactures and markets cars under brands of Mitsubishi, Nissan and Luxgen, said that the donation showed the group's concerns over the victims, and hoped that the they will soon recover from the disaster and see their homes reconstructed.
Meanwhile, Acer Inc. (宏碁), one of Taiwan's largest personal computer brands, announced NT$1 million in donation to the victims of the earthquake, saying that the company was shocked when the earthquake news surfaced.
Acer said that as part of the society, the company should do its part in the relief work. The company will contact charity groups or government agencies to send the funds to the victims of the quake as soon as possible.
(By Tien Yu-pin, Fang Pei-ching and Frances Huang; click here for the full coverage of the earthquke aftermath.)enditem/BL