Chiayi City launches solar power system program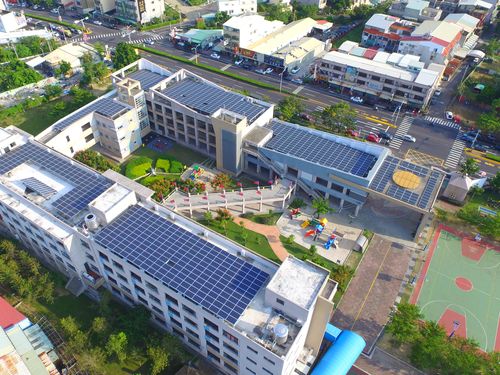 Taipei, Dec. 17 (CNA) Taiwan's southern city of Chiayi officially launched a program Thursday to set up solar power systems at 27 schools and offices in the city, in an effort to reduce carbon emissions and develop renewable energy.
Under the program, solar power systems have been established on the rooftops of 38 school and office buildings, the Chiayi city government said. The new systems are expected to generate 3.55 million kilowatt hours of electricity per year and help reduce carbon emissions by 1,700 tons, it added.
Located on the Tropic of Caner, Chiayi City has an average 5.7 hours of sunshine per day, making it an ideal place to establish solar power systems as a source of energy, said Chiayi Mayor Twu Shiing-jer (涂醒哲) at the launch ceremony at Jhih Hang Elementary School.
The school is one of the participants in the program. Solar panels with a combined area of 780 pings (2,578 square meters) have been installed on all rooftops of the buildings at Jhih Hang. From September to November, the system has produced 52,000 kWh of electricity, the school said.
In the first stage, the program has so far seen solar power systems built on the rooftops of 38 buildings, the city government said, adding that it plans to establish solar power systems at 32 other school and office buildings in the future.
(By Chiang Chun-liang and Elaine Hou)ENDITEM/J