Typhoon Soudelor causes widespread damage to Taiwan (update)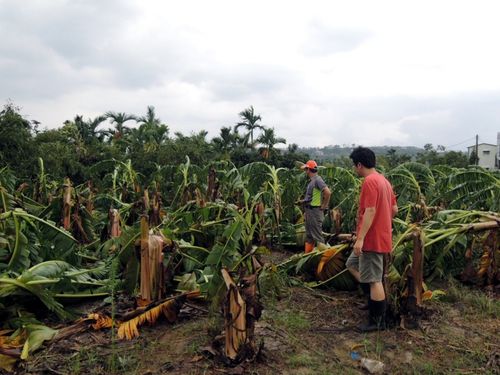 Taipei, Aug. 9 (CNA) Typhoon Soudelor left behind widespread damage when it barreled through Taiwan on Saturday, including an estimated NT$560 million (US$17.67 million) in damage to eight wind turbines operated by Taiwan Power Company (Taipower).
The state-run energy supplier said the typhoon's powerful gusts of up to 202 to 220 kilometers per hour blew six of its 18 wind turbines at Taichung's Gaomei Wetlands to the ground and severely damaged two of its six turbines in northern Taiwan's Shimen Wind Power Station.
The six Taichung turbines suffered an estimated NT$500 million in damage and the two in Shimen about NT$60 million in damage, Taipower said.
Soudelor also left more homes in Taiwan without power than any other storm in the country's history, but Taipower had restored electricity to most of those homes as of Sunday afternoon.
The typhoon caused power outages to a total of 4.24 million households, and electricity was back on at 3.93 million households as of 3 p.m. Sunday, leaving 310,000 households still blacked out.
The Ministry of Education said that as of 1 p.m. Sunday, 812 schools nationwide have reported damage from the typhoon, and 11 schools will remain closed on Monday.
The damage to school buildings and property is estimated at NT$120 million, mostly in Taichung, Kaohsiung and Changhua.
Estimates of the agricultural losses the country suffered from Typhoon Soudelor rose to NT$298.63 million (US$9.42 million) as of 9 a.m. Sunday. The new figure was double the NT$143.34 million in losses given by the Council of Agriculture as of 2 p.m. Saturday.
At least seven persons were killed, five are still missing and 402 were injured as a result of the typhoon, according to statistics compiled by the National Fire Agency under the Ministry of the Interior Sunday evening.