Twisted mailboxes may be spared by post office after gaining fans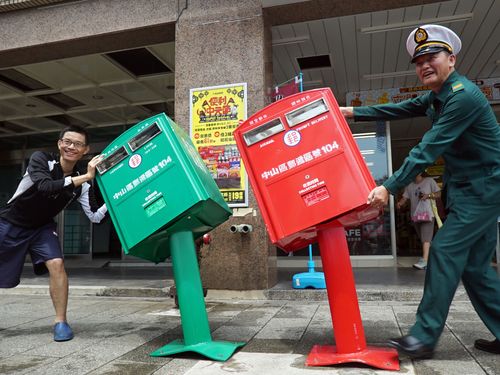 Update: ●Aug. 12: A twist in destiny, twisted mailboxes to stay put -- for now●Aug. 11: Twisted mailboxes to be relocated after crowds hamper traffic
Taipei, Aug. 9 (CNA) Two roadside mailboxes in downtown Taipei appeared destined for the scrap heap after being damaged during Typhoon Soudelor, but they may survive as tourist attractions after local residents took a liking to them.
The two twisted mailboxes close to the intersection of Nanjing East Road and Longjiang Road have attracted crowds of people, some wanting to pose for photos with them, since Saturday afternoon when the typhoon moved out to sea.
Taipei resident Huang Hsing-pao (黃星寶) told a local tabloid that the photo of the two mailboxes has gone viral since being posted Saturday morning, and finding their posture "very cool," he wanted to take a photo with them and check in on Facebook.
The mailboxes, nicknamed "Xiao Hong" (little red)" and "Xiao Lu" (little green) by their online fans, were hit and tilted to one side by a signboard that fell to the ground during the storm in the early hours of Saturday, according to workers at a nearby convenience store.
Chunghwa Post Co. wanted to remove them because of the severe damage they sustained, but it said Sunday that many people have asked the postal service to keep the mailboxes where they are in their current shape.
Lee Kan-hsiang (李甘祥), head of Chunghwa Post's Department of Mail Business and Operations, said the company is inclined to go along with public opinion.
But Chunghwa Post still has to check to see if the mailboxes can keep rainwater out and if they pose a hazard to pedestrian safety before deciding whether or not to preserve them, Lee said.
(By Chen Ting-wei and Elizabeth Hsu) ENDITEM/ls