Taiwan records biggest earthquake for the year: CWB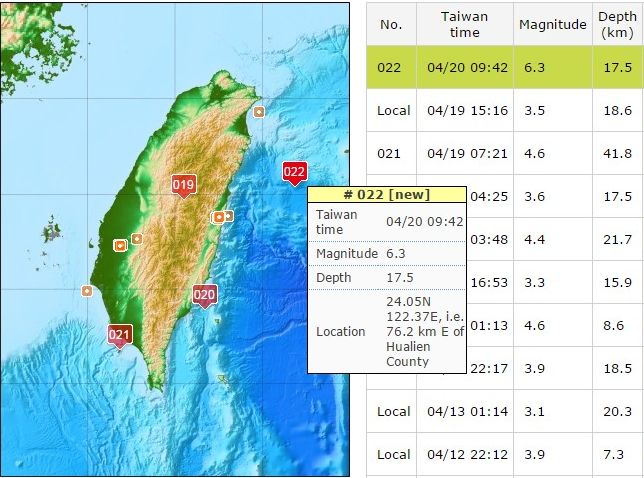 Taipei, April 20 (CNA) A magnitude-6.3 earthquake that struck off the northeastern coast of Taiwan Monday morning was the biggest temblor recorded in the country so far this year, the Central Weather Bureau (CWB) said.
The earthquake's epicenter was located at sea about 76.2 kilometers east of Hualien County Hall at a depth of 18 km, bureau officials said.
The bureau said the quake, which was detected in Okinawa in Japan at a magnitude of 6.8, was the result of plate movement.
Eastern Taiwan's location between two tectonic plates -- the Philippine Sea Plate and the Pacific Plate -- makes it especially prone to earthquakes, said CWB official Lu Pei-ling (呂佩玲).
Earthquakes of magnitude 6.0 and stronger are recorded in that area roughly every three to five years, Lu said. There is a chance that temblors of similar magnitude will occur in that part of Taiwan later this year, he said.
Taiwan has experienced three such earthquakes so far this year, which represented a release of energy equivalent to 1.4 atomic bombs, according to CWB data.
On Monday, Japan issued a tsunami warning for areas around Miyako and the Ishigaki Islands, in the wake of the quake.
The Japan Meteorological Agency (JMA) estimated that a 1-meter high tsunami would affect areas around the islands at around 11:30 a.m. Japan time.
(By Chen Wei-ting and Lee Hsin-Yin)ENDITEM/pc
Update: ●Magnitude 5.8 strikes Taiwan (7:45 p.m.)●Magnitude 5.7 earthquake rattles eastern Taiwan (8 p.m.)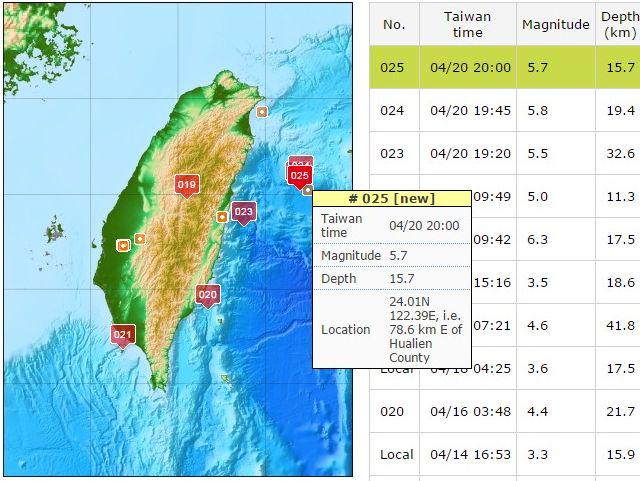 [From the Central Weather Bureau website]
Related:●No major damage reported after magnitude 6.3 quake
大家都好嗎?剛才的地震台北晃得真的超強!詳情看這裡→http://www.cna.com.tw/news/firstnews/201504205006-1.aspx從小編辦公室看出去,隔壁大同高中的水塔裡的水都被震得滿天飛,超~驚~悚~!#地震

Posted by 中央社新聞粉絲團 on 2015年4月19日
[A school building next to CNA office in Taipei]