Three more bodies found near crash site as search continues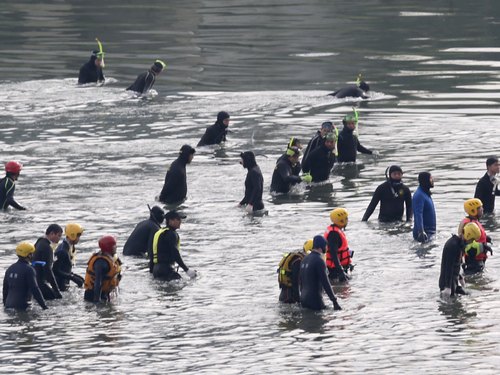 (Note: The Civil Aeronautics Administration updated the number of deaths to 40 at 5:17 p.m. Saturday)
Taipei, Feb. 7 (CNA) Three more bodies were found Saturday morning as the search continued for the missing people who were on a TransAsia Airways (復興航空) plane that crashed into a river in Taipei on Wednesday with 58 people onboard.
The three bodies -- two female and one male -- were recovered by midday Saturday from the waters near the crash site in Taipei's Nangang District, bringing the death toll to 38. Five others remain unaccounted for. Fourteen passengers and one flight attendant survived.
Hundreds of rescuers and divers continued to comb the river on Saturday. The military also dispatched a S-70C rescue helicopter in three sorties on Saturday to try to spot signs of the missing people in the water, the Defense Ministry said.
[Better weather condition for search teams Saturday]
On Saturday afternoon, the search will be expanded and include more rescuers, as the weather condition and visibility took a turn for the better.
Flight GE235 plunged into the Keelung River in Taipei shortly after takeoff from the city's Songshan Airport on Wednesday morning. The pilot and co-pilot were among the deceased.
The plane, an ATR 72-600 turboprop, which was carrying a five-member crew and 53 passengers, was en route to Taiwan's Kinmen islands when the accident occurred.
Thirty-one of those on board the plane were Chinese tourists and their tour guide. They had just completed their visit to Taiwan and were heading back to China via Kinmen, located only a few kilometers from the Chinese province of Fujian.
At a Friday news conference to reveal initial findings, the Aviation Safety Council (ASC, 飛安會) indicated that the TransAsia Airways plane issued a warning signal of "flame out" in the right engine shortly after takeoff, but instead of shutting off and restarting that engine, the pilots shut off the left engine, leaving the aircraft with no power to either engine.
When the pilots tried to restart the engine they had shut off, it was too late, and the plane went down.
Council officials cite data from the two black boxes retrieved from the ill-fated ATR 72-600 turboprop for the revelation.
As the investigation into the cause of the crash continues, the ASC said that at the time being, it could not answer questions on why the pilots cut off power in the only functioning engine.
(By Liu Chien-pang and Elaine Hou; click here for the latest on the crash)ENDITEM/cs