Taxi driver in plane crash video literally did not know what hit him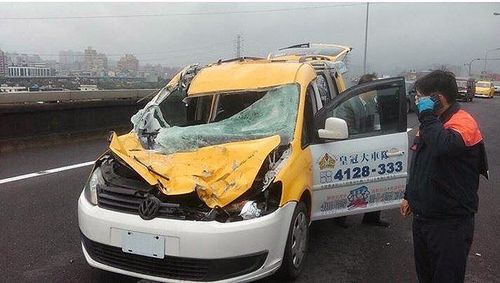 Taipei, Feb. 5 (CNA) "When it happened, my mind was a complete blank," said the driver of the taxi clipped by TransAsia Airways (復興航空) Flight 235 before it plunged into a Taipei river Wednesday morning, killing at least 31 of the 58 people on board.
Chou Hsi-tung (周錫東), who local media said is 52 years old, was driving his mini-van taxi along an elevated road in Taipei's Nangang District at 10:53 a.m. when the unthinkable happened.
The ATR 72 turboprop plane cleared several buildings after it began losing altitude, turning on its side just before its wing struck Chou's car and then the nearly empty expressway.
The roof of his car was dented inward, the windshield completely smashed, and the hood crushed in, but the driver and his 26-year-old passenger luckily made it out alive.
While the nation was transfixed by sensational video footage of the crash taken by another motorist, Chou himself literally did not know what hit him at first.
"I didn't even see there was a plane flying there," he reportedly told his company, Crown Taxi (皇冠大車隊), before being brought to the hospital where he was diagnosed with a concussion and vision problems in his right eye, which was apparently hit by broken glass.
"It just felt like a darkness, like black clouds, and then suddenly a huge white object appeared right in front of my eyes," said Chou, who is not receiving media personnel while he recovers. "I only realized it was a plane after I got out of my car!" he said, according to the company.
His passenger, identified by her surname Wang (汪), was reportedly in stable condition with minor injuries.
Crown Taxi confirmed that the car has most likely been totaled after being grazed by the plane's wing.
The company has already received a caller asking to buy the "miracle car" that survived a plane crash but turned it down.
In a statement, Crown Taxi said that Chou is grateful for everyone's concern but is unable to take visitors or interview requests. It added that people should focus on offering sympathies and prayers to those who were onboard the plane.
The Civil Aeronautics Administration said that as of 4 p.m. Thursday, 31 people onboard the plane including the pilot and copilot were confirmed dead, 15 were being treated for injuries, and 12 were still missing.
On Thursday, a recording of Chou's call to Crown following the accident was made public, instantly earning him praise for his collected demeanor despite having been hit by an airplane.
A full translation of the first call follows:
Crown: Hello, this is Crown Taxi.
Chou: Hello, this is No. 1098. A small plane just fell down and hit my car. The... the... the plane fell into the Keelung River. I'm on Huandong Boulevard. Please call me an ambulance.
Crown: No. 1098, you, you, you... uh... You're on Huandong? Wait a second, wait a second!
(The call is transferred)
Crown: Hello.
Chou: Hello, I'm No. 1098. I just got onto Huandong -- I just brought a passenger up unto Huandong, and as I was getting on (the expressway), a plane flew by and hit me.
Crown: A remote-controlled model plane?
Chou: My car is completely wrecked.
Crown: A remote-controlled model plane?
Chou: Not a remote-controlled plane, a small manned plane.
Crown: Huh? Uh... Are there any casualties?
Chou: The whole thing fell into the Keelung River.
Crown: Really? Are there any casualties?
Chou: Huh?
Crown: Are there any casualties? Is anyone hurt?
Chou: My passenger can't get out of the vehicle. My car's wrecked. Call me an ambulance as fast as possible.
Crown: You're No. 1098, right?
Chou: Yes. Yes. Yes. Yes.
Crown: Where are you right now?
Chou: Nangang. We just got on Huandong Boulevard.
Crown: Huandong Boulevard. OK, I'll give your phone number to the other side (119).
Chou: Uh.
Crown: OK, got it, bye.
(By Wesley Holzer; click here for the latest on the crash)ENDITEM