Oil maker ordered to recall 68 lard-based products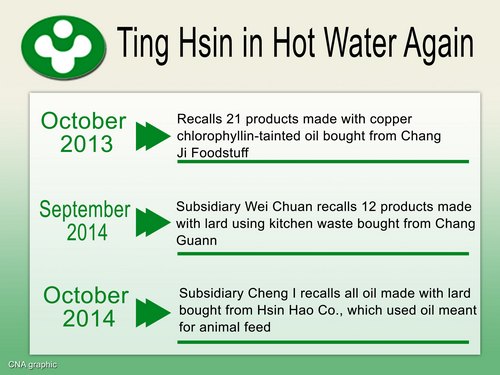 Taipei, Oct. 9 (CNA) Edible oil maker Cheng I Food Co. has been ordered to recall 68 lard-based products in yet another food scare to hit Taiwan.
Cheng I, a subsidiary of industry giant Ting Hsin International Group, allegedly used low-quality oil used for making animal feed to produce some of its lard products. The oil was supplied by Hsin Hao Co., a company founded by a former Cheng I executive.
Vice Minister of Health and Welfare Shiu Ming-neng told lawmakers Thursday that Cheng I used oil from Hsin Hao in 37 products between February and September this year, which were sold downstream to at least 230 buyers.
To be safe, however, the ministry has required Cheng I to recall all 68 lard-based products it has produced since September 2012, Shiu said.
The offense of passing off feed oil as lard meant for human consumption carries a maximum penalty of NT$50 million in fines and five years in jail, he said.
He promised that his ministry will complete an investigation of all 600 edible oil manufacturers in Taiwan within a month to see if they are involved in similar irregularities.
Denying accusations that the ministry has been slow to take action, Shiu said the ministry requested prosecutors to help investigate suspicious oil makers as early as Sept. 19, soon after Chang Guann Co. was found to be using oil extracted from kitchen waste in its lard products.
However, he admitted that there are imperfections in the ministry's handling of the case and he apologized to the public over the latest incident's impact on consumer confidence and downstream food makers.
(By Chen Wei-ting and Y.F. Low)ENDITEM/J
Related stories:●Oct. 9: Food sector weakens amid food safety concerns●Oct. 8: Ting Hsin back in hot water over new oil scandal at subsidiary