Three detained, 12 released in detective murder case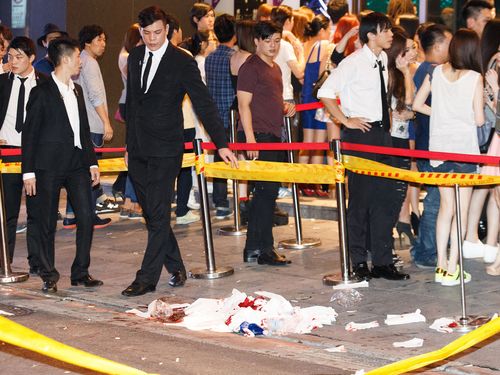 Taipei, Sept. 16 (CNA) The chief suspect in the brutal killing of a police detective in Taipei on Sunday, his girlfriend and another man were detained by the Taipei District Court on Tuesday.
Tseng Wei-hao, his girlfriend Liu Hsin-tung and Hsiao Jui-hung were detained and held incommunicado in the early morning on suspicion of having committed murder, with 12 other defendants being released on bail ranging from NT$50,000 (US$1,652.5) to NT$100,000.
Detective Hsueh Chen-kuo died early Sunday after being beaten up by a violent mob outside the ATT 4 FUN department store in Taipei's Xinyi District. The incident was triggered in a nightclub on an upper floor of the department store building.
The 38-year-old detective was assaulted by a group of around 50 suspects with baseball bats and knives in an ordeal that lasted at least three minutes. He sustained multiple contusions to his head and was declared dead after being rushed to the hospital, police said Sunday.
Tseng and his girlfriend are suspected of instigating the attack.
In their initial investigation, Taipei police arrested and summoned 23 suspects and released eight after interrogating them. Fifteen were handed over to the Taipei District Prosecutors Office for further investigation.
(By Tsai Pei-chi and James Lee)ENDITEM/ls
Related stories:●Sept. 15: Main suspect surrenders in detective murder case●Sept. 14: Detective dies after being beaten by mob