Car, injured people found on rooftop after Kaohsiung explosions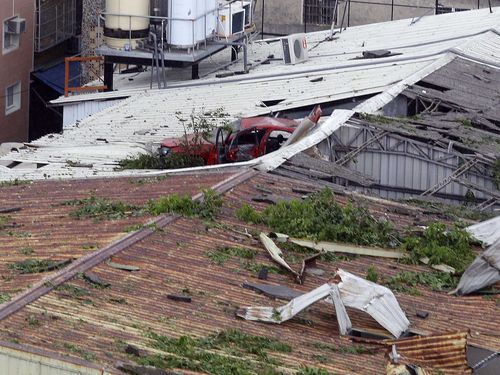 Taipei, Aug. 1 (CNA) The explosions that rocked Kaohsiung late Thursday were so powerful that emergency workers found a car and injured people on the top of buildings three to four stories tall, rescuers said.
Two people were found on the top of a four-story building on Sanduo Road in the early hours of Friday morning, rescuers reported. They were said to be conscious and have been rushed to a hospital.
Elsewhere in Cianjhen District, where most of the destruction took place, a red sedan was found stuck on a corrugated metal roof on top of a three-story building.
The sight bears out numerous witness reports of cars and motorcycles being blown high up in the air, in some cases causing serious injuries to people riding the vehicles.
As of 9:30 a.m., 24 people were reported killed in the blasts and 271 others injured. The casualties include 24 firefighters and police officers.
The explosions were believed to have been caused by leaked petrochemical material although the exact cause is yet to be established.