Protesters still in Legislature despite end of Sunflower Movement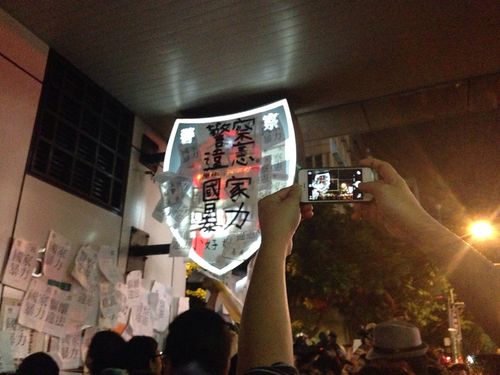 Taipei, April 12 (CNA) Hundreds of protesters gathered around the Legislature just past midnight on Saturday following a rally at the nearby police precinct to protest what they called the forcible dispersal of a protest on Friday morning.
They arrived outside Zhongzheng First Police Precinct headquarters Friday evening, where as many as 1,000 people demanded precinct chief Fang Yang-ning apologize and step down for authorizing the morning's dispersal of activists around the Legislative Yuan despite a pledge that he would use "soft" tactics.
After limited clashes with police and even among themselves, the protesters moved down the street to the Legislature complex, the center of protests over the trade-in-services pact with China since March 18.
Although the formal protest over the pact ended Thursday, some demonstrators remained on the site as of Friday morning, leading the police to physically remove them.
Despite the relatively few remaining protesters, the police presence had been increased as a precautionary measure to some 400 officers.
At the police station, some 30 counter-protesters showed up to show their support for Fang, who had given an offer to resign that Taipei Mayor Hau Lung-bin refused to accept.
The supporters were members of the White Social Justice Alliance, a pro-services pact group that has held small counter-protests over the past several weeks.
The services pact has been controversial in Taiwan, with those opposed to arguing it will hurt Taiwan's small businesses and those in favor of it saying it is a cure for Taiwan's sluggish economy.
(By Flor Wang) enditem/WH
Update: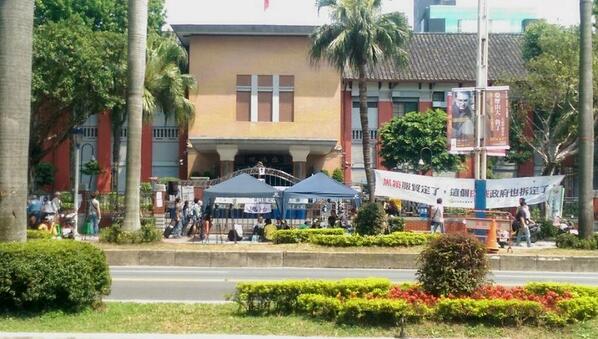 [Outside the Legislative Yuan, Saturday afternoon]
Related stories:●April 12: Hau tells precinct chief to stay on job through investigation●April 11: Protesters moving to legislative square after demands met●April 11: Taipei mayor refuses police chief's offer to resign (update)●April 11: Protesters demonstrate outside police precinct in Taipei●April 11: Legislature meets briefly after 3-week suspension
(Click here for a timeline of major developments since the Legislature occupation started March 18.)