Taiwan-Singapore team discovers new moray eel species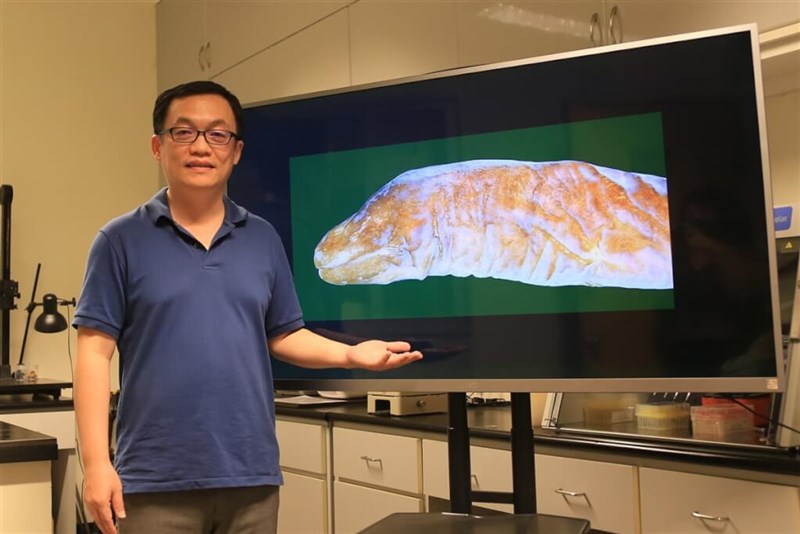 Kaohsiung, May 29 (CNA) A new species of moray eel has been discovered and confirmed through the efforts of a National Sun Yat-sen University (NSYSU) professor and doctoral student in Taiwan and a researcher with the National University of Singapore (NUS).
Professor Liao Te-yu (廖德裕) and doctoral student Huang Wen-chien (黃文謙) from NSYSU's Department of Oceanography, working alongside researcher Tan Heok Hui (陳旭輝) of the NUS' Lee Kong Chian Natural History Museum, identified the new species, the Taiwan school said in a statement Monday.
Called Uropterygius cyamommatus, the new species was described as a uniform brown-colored moray eel notable for its beady eyes and for being the first-recorded morays to be discovered dwelling in anchialine caves, or caves with enclosed bodies of water.
That made the find a unique discovery because moray eels are typically salt water aquatic animals while the caves they were found in were freshwater caves, the statement said.
The three scientists officially published their findings in March on the "Raffles Bulletin of Zoology," a peer-reviewed scientific journal published by the NUS museum.
According to their article, the scientists conducted their research using baited traps set up in two limestone anchialine caves on Australia's Christmas Island and one cave on Panglao Island in the Philippine province of Bohol.
The traps were set in the upper freshwater layers at a depth of less than two meters through terrestrial openings of the subterranean cave systems.
A total of nine specimens were recovered between the two caves, and the researchers discovered that the new species was a smaller eel than others from its genus and had a larger number of vertebrae.
Aside from being discovered in a freshwater zone, the scientists also noted that two of the nine specimens captured were born without eyes on the left side of their faces.
Given its small eyes, which on average covers 3 to 4.6 percent of its head length, or the lack of eyes, the scientists hypothesized that the species may have adapted to low-light environments, as noted in many types of cave-inhabiting aquatic creatures.
The scientists noted, however, that there were no significant changes to the cranial structure of the orbital region in the specimens that lacked left eyes.
The published findings of the Taiwanese and Singaporean scientists are expected to appear in other scientific journals, with an article already published on May 18 in Science, one of the world's authorities in peer-reviewed academic journals.