104 locally developed Chien Hsiang 'suicide drones' to be made by 2025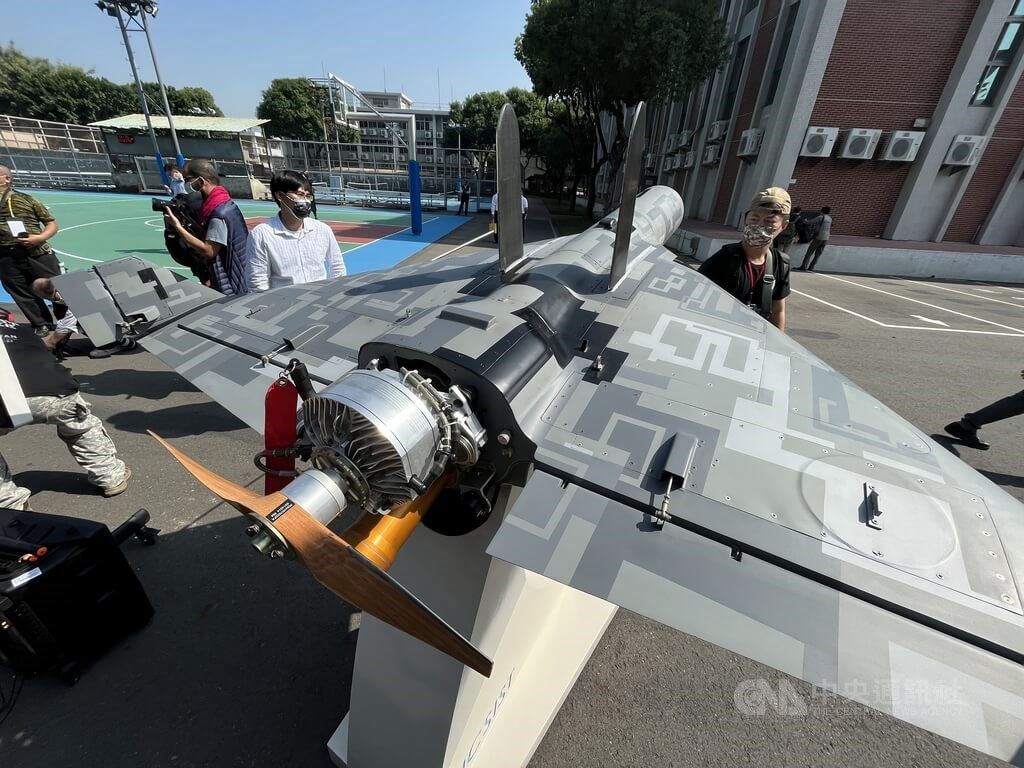 Taipei, Nov. 15 (CNA) Taiwan's state-run weapons developer said Tuesday that it would complete the production of a batch of 104 domestically developed Chien Hsiang (劍翔) "suicide drones" by 2025.
At a press briefing, Chi Li-ping (齊立平), head of the National Chung-Shan Institute of Science and Technology's (NCSIST) Aeronautical Systems Research Division, said both the production and delivery of the drones developed by the institute were on schedule.
Chi did not elaborate on how many of the drones the military has ordered.
He said the anti-radiation suicide drone had a maximum flight time of five hours and can strike targets 1,000 kilometers away, adding that its range allows it to target seaborne, coastal, and inland Chinese radar systems.
If Chien Hsiang is told to attack a target located 500 km away but loses signal of that target, it can loiter in the area for over a total distance of about 500 km while waiting for the target to become active again and strike, hence the name "loitering munition," Chi said.
When Chien Hsiang carries out an attack, it swoops down and crashes into the target at a speed of about 600 km per hour, Chi added.
According to Chi, it is possible to deploy 12-drone clusters of the Chien Hsiang, which can take flight without a runway.
Alternatively, the drone can be used as a decoy to protect essential systems from attacks by enemy anti-radiation missiles or UAVs, Chi said.
Chi also introduced the NCSIST's rotary-wing unmanned aerial reconnaissance vehicle, which is capable of withstanding strong breezes of up to 50 km per hour.
Chi said that the drones had a maximum flight time of more than an hour, a range of over 30 km, and the ability to transmit images in real-time.
The Republic of China (Taiwan) Army Command has so far received 14 drones from an initial order of 50, which are to be used in coastal areas, Army Chief of Staff Lieutenant General Chang Yuan-hsun (章元勳) recently told the media.
The military has recruited 115 drone operators who passed a test administered by the Civil Aeronautics Administration after receiving training from the NCSIST, according to Chang.
Meanwhile, Chi said during Tuesday's press briefing that the NCSIST's Teng Yun (騰雲) drone could enter mass production once it passes a combat readiness evaluation next year.
The Teng Yun, which is to be used primarily for reconnaissance, comes with synthetic aperture radar and can be controlled via satellite, according to the NCSIST.
It said the Teng Yun has a range of at least 1,100 km and a maximum flight time of 20 hours.
Chi said the NCSIST had not yet set a timetable for bringing the Albatross II into mass production, adding that the institute was upgrading the unmanned aerial vehicle's combat radius and flight endurance to match the range of more advanced missiles.
Asked by reporters how the NCSIST enforces its policy of not using any parts of components sourced from China, Chi said the state-owned weapons manufacturer required all its contractors to provide import documents for all parts and components, which then undergo several audits to ensure nothing has been sourced from China.
The NCSIST conducts background checks of its contractors to ensure that they are not the recipient of Chinese funds and have not engaged in a suspiciously large amount of business with or in China, Chi said.
In addition, the NCSIST administers identity checks on all personnel who come in and out of its compound and asks all its contractors to sign nondisclosure agreements, Chi said.