TANG PRIZE
/
Curiosity, collaboration, and finding joy keys to research: mRNA pioneers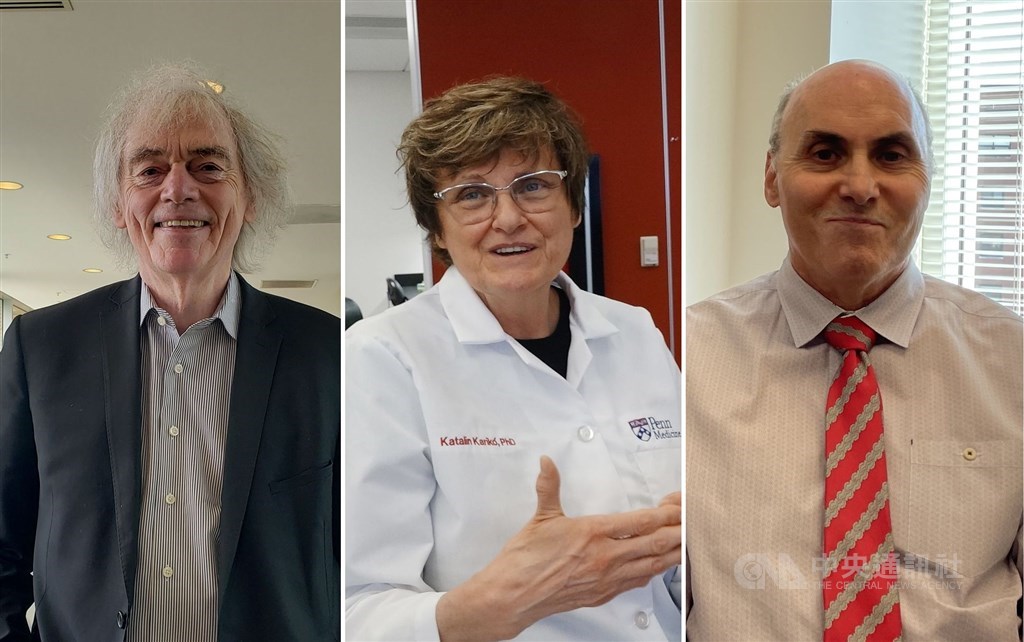 Taipei, June 19 (CNA) The winners of the 2022 Tang Prize in Biopharmaceutical Science have credited curiosity, collaboration and finding joy in their work as critical to their efforts that laid the foundation for messenger RNA (mRNA) COVID-19 vaccines.
The laureates, Katalin Karikó, Drew Weissman, and Pieter Cullis, were recognized "for the discovery of key vaccinology concepts and approaches, leading to the successful development of mRNA-based COVID-19 vaccines," according to the Tang Prize Foundation.
Karikó and Weissman discovered a way to modify mRNA so that it would not cause an inflammatory response when injected into the body, a technology that is used in the Pfizer-BioNTech and Moderna COVID-19 vaccines.
Cullis is a pioneer in delivery systems for mRNA to human cells through the use of lipid nanoparticles (LNP), which are bubbles of fat that wrap around and protect mRNA.
They all spoke with CNA after being informed they had won the Tang Prize, and curiosity was one of the traits they highlighted when talking about their achievements.
Speaking to CNA at his office at the University of Pennsylvania, where he is the director of vaccine research at the Perelman School of Medicine, Weissman said he was curious from a very young age.
"I was always interested in discovering how things work, discovering how to make things work better," the American physician-scientist said.
He would take doorknobs and toasters apart in his home as a child, and that sense of curiosity shifted as he grew older to biology and immunology, and then to new types of vaccines and therapies, he said.
He advised young people who like to explore and figure things out to give science a try. "If you don't like it, then you learn something. If you do like it, then you've got a new career path," he said.
Karikó, who Weissman has worked with for over two decades, also remembers being curious during her childhood in Hungary, whether watching chickens hatch eggs or thinking about the migration paths of storks.
As a young researcher and mother with a packed schedule, she read scientific journals front to back, excited to learn things.
Even with curiosity, however, enjoying one's work and understanding the big picture are also critical for researchers, according to Karikó.
"When I am doing research, there will be a lot of problems to solve, and then after solving that, you know there is happiness," she said.
While other people may not see your work as a big discovery, feeling that sense of joy as you solve problems little by little helps you to move on without anyone tapping on your shoulder and saying that you're doing a good job, she said.
For her, this understanding of the big picture and knowing that what she was doing was helping others and advancing science was enough, so that being recognized for her work was never important to her personally.
Collaboration is also key. Weissman said that even though he and Karikó have "completely opposite" personalities, their shared interest in science and perseverance allowed them to keep working on RNA even when no one was interested and people around him thought he was throwing away his career.
They would email each other back and forth, sometimes in the middle of the night, because they were so excited about the results, Karikó said, and they would talk about what their findings meant and how they should proceed.
Cullis, a professor of biochemistry and molecular biology at the University of British Columbia (UBC), also sees collaboration as fundamental to great research.
For him, the Tang Prize "is really being given for the work of literally hundreds of people that I've had the pleasure to work with over the last 40 years, so it's really fantastic," the Canadian researcher said.
Collaboration was central in the development of COVID-19 vaccines. Cullis said that Weissman first called him about using LNPs to deliver vaccines into the human body in 2014.
This later led to a collaboration on creating a flu vaccine between Acuitus Therapeutics, a company he co-founded, and BioNTech. The lipid nanoparticle that they developed for the flu vaccine ended up being the one that was used in the COVID-19 vaccine, he said.
Getting the shot
For many around the world, getting a COVID-19 vaccine shot provided a sense of relief and signified a turning point in the pandemic.
Weissman got his first shot together with Karikó, and he described it as "25 years of work being stuck in my arm."
He said it was exciting because he knew that the world now had something for controlling the pandemic. "And that was the most important thing to me."
Cullis recalls lining up to get his first dose on the UBC campus. When he finally got to the nurse, he told her that he "had something to do with the how that vaccine was made."
"She looked at me like I was coming from outer space or something," Cullis said. She was probably thinking, "Oh yeah, right. And I married Brad Pitt or something like that," he joked.
Nonetheless, it was "quite a moment" to realize that something he had worked on was having this big effect on the world, he said.
The Tang Prize is a biennial award established in 2012 by Taiwanese entrepreneur Samuel Yin (尹衍樑), chairman of the Ruentex Group, to honor people who have made prominent contributions in four categories -- sustainable development, biopharmaceutical science, sinology, and rule of law.
The winners in each category share a cash award of NT$40 million (US$1.34 million) and NT$10 million in research funding.
Related News
June 18: Taiwan to roll out Moderna COVID-19 vaccine for children under 6 in July
June 10: COVID vaccine dosing interval for children cut to 4 weeks: CECC
April 28: Taiwan inks new Pfizer-BioNTech vaccine deal, approves use for children
April 20: Taiwan approves Moderna vaccine for children aged 6-11
View All