Tang Prize laureates discuss cytokine-based therapies at forum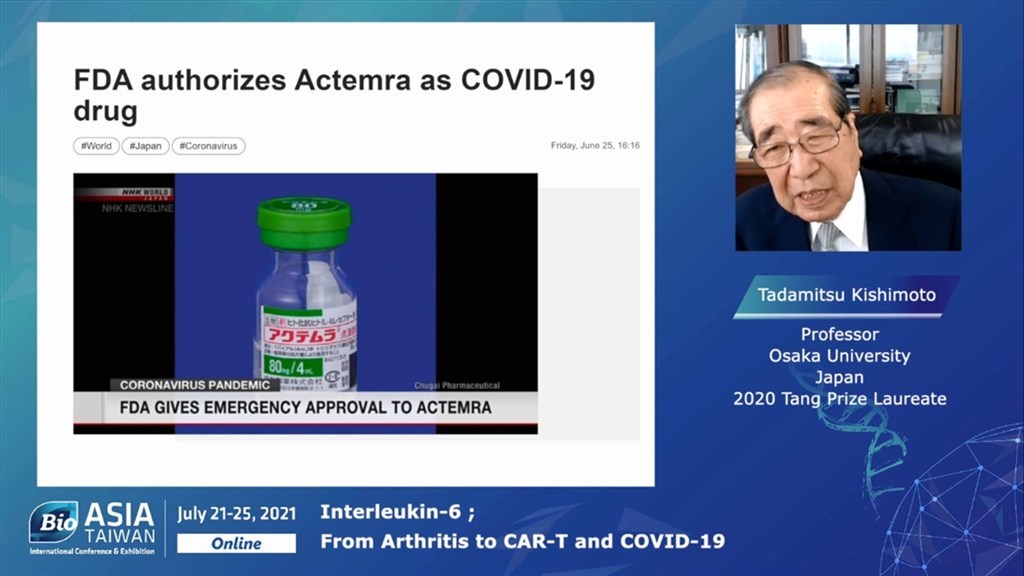 Taipei, July 24 (CNA) The three 2020 Tang Prize laureates in biopharmaceutical science shared their insights on cytokine-based therapies during the BIO Asia-Taiwan conference on Friday, including one treatment currently being used to cure COVID-19.
During the five-day online conference, Tadamitsu Kishimoto, Charles Dinarello and Marc Feldmann -- who are known for targeting pro-inflammatory cytokines interleukin-6, interleukin-1 and tumor necrosis factor (TNF) to treat inflammatory diseases -- provided different perspectives on advances in cytokine-based therapies.
One of the therapies that drew particular attention at the forum was a COVID-19 drug developed by Kishimoto, "Actemra," which recently received emergency use authorizations (EUAs) from both the U.S. Food and Drug Administration and the World Health Organization.
Kishimoto said his team has found that the drug, which was originally used for arthritis, can play a vital role in COVID-19 treatment.
This is because Actemra can block interleukin-6 and so deal with the "cytokine storms" experienced by those patients, which can be triggered by various factors including infections, he said.
Meanwhile, Dinarello discussed the broad spectrum of interleukin-1 in inflammatory disease, adding that the use of an interleukin-1 inhibitor can be used to treat people with diabetes, myocardial infarctions and even respiratory failure due to COVID-19.
Feldmann reviewed the development of anti-TNF therapy and predicted future applications.
Through the therapy, which targets TNF, a multifunctional cytokine that plays an important role in diverse cellular events, its primary functions being the regulation of immune cells, progress could be made in the treatment of rheumatoid arthritis, Feldman said.
The Tang Prize is a biennial award established in 2012 by Taiwanese entrepreneur Samuel Yin (尹衍樑), chairman of the Ruentex Group, to honor individuals who have made prominent contributions in four categories -- sustainable development, biopharmaceutical science, sinology, and rule of law.