Hon Hai's open electric car platform to launch 3 models in Q4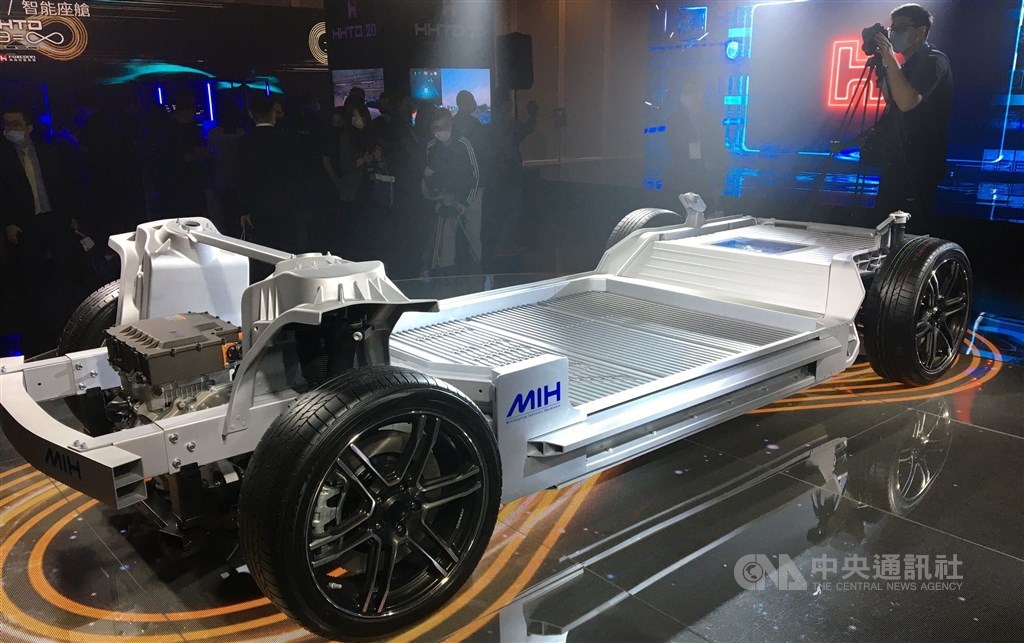 Taipei, Feb. 20 (CNA) Taiwan-based manufacturing giant Hon Hai Precision Industry Co. said on Saturday that its open electric car platform is expected to debut three new models in the fourth quarter of this year.
Speaking to the press, Hon Hai Chairman Liu Young-way (劉揚偉) said the MIH Open Platform pushed by his company is expected to introduce one electric bus and two passenger cars in the October-December period.
Liu said the efforts of Hon Hai -- known as Foxconn on the global market -- in electric car development are expected to boost its sales significantly in 2023.
So far, 736 companies have joined the MIH Open Platform as they aim to start supplying products via the platform, Liu said.
In February 2020, Hon Hai announced a joint venture with the Yulon Group, one of the leading carmakers in Taiwan.
Under the joint venture -- Foxtron Vehicle Technologies Co. -- Hon Hai and Yulon subsidiary Hua-Chuang Automobile Information Technical Center Co. are focusing on automobile design and enhancing the MIH Open Platform, which provides hardware and software to other automakers for electric car development.
Hon Hai has said that it plans to build the platform into the "Android of the electric car industry" as part of its efforts to diversify and penetrate the global electric vehicle market.
Liu said he was optimistic about electric car development worldwide, forecasting that 2024 will be a turning point, with several new electric car models expected to be launched on the global market.
Taiwan will face a critical moment in electric car development over the next two to three years, Liu said, while he expressed gratitude to the government for its support for the electric car industry and noted Hon Hai will continue to work with the government in the area.
Liu said electric cars have topped Hon Hai's operation agenda in 2021, adding that the company has left unchanged a goal in which it will take a 10 percent share in the global electric car market.
Hon Hai has been pushing its "3 plus 3" initiative to expand from just manufacturing into hardware and software integration. The development of electric cars is central to that initiative and the aim is to build a supply chain for the electric car industry, according to Liu.
Hon Hai's "3 plus 3" initiative refers to three emerging industries -- electric cars, robots and digital healthcare -- that are being developed through artificial intelligence, semiconductor and communication technologies.
Meanwhile, Liu said that Hon Hai is likely to strike a new contract with the U.S. state of Wisconsin by the end of June for the company's investment in the state.
Liu said talks between Hon Hai and the Wisconsin Economic Development Corp. (WEDC) for a new contract have been proceeding smoothly and that his company will continue to invest in the state and roll out products catering to the market.
News media in Wisconsin has reported that Hon Hai failed to live up to a previous promise to build an advanced 10.5th generation flat panel factory in the state.
In 2017, Hon Hai and WEDC signed a deal in which the Taiwanese company will invest US$10 billion in Wisconsin, including the 10.5th generation flat panel plant in the Village of Mount Pleasant and in Racine County, to transform the state into a high-tech hub.
Under the deal, Hon Hai would receive about US$3 billion in subsidies from the Wisconsin government on the back of a plan to create 13,000 jobs.
While Liu did not disclose any other details about the expected new contract, the reports said Hon Hai said in November that it was willing to agree to lower tax credits in exchange for "a flexible business environment."