Seaglider technology leads to oceanography discovery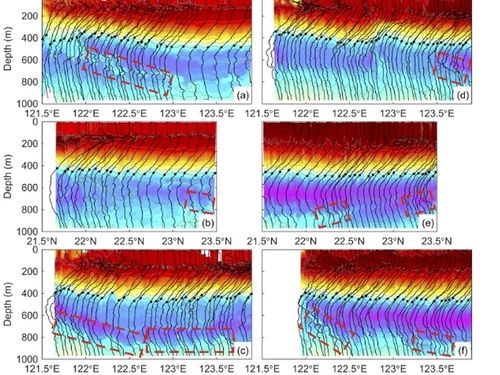 Taipei, Oct. 3 (CNA) A team from Taiwan became the first to discover alternating layers of salinity in the Kuroshio Current, by using an autonomous underwater vehicle, a major milestone in oceanography research, the Ministry of Science and Technology announced at a press conference Wednesday.
The Kuroshio current is a north-flowing ocean current on the west side of the North Pacific Ocean, similar to the Gulf Stream in the North Atlantic. It begins near Luzon Island of the Philippines and becomes part of the North Pacific current east of Japan.
The study found layers of water that did not gradually increase or decrease in salinity underneath the rapid surface waters of the Kuroshio. Instead, layers of high and low salinity alternate. These layers of water in the Kuroshio measure 10km-100km horizontally and around 50 meters vertically.
Though these types of layers have previously been observed in the Arctic Ocean, the Antarctic Ocean and near the equator in the Pacific Ocean, they have seldom been seen in rapid flowing ocean currents such as the Kuroshio, marking the paper as a landmark discovery.
The study was first published in Nature Journal's Scientific Reports on August 6th.
Professor Jan Sen (詹森), leader of the research team behind the study and head of the Institute of Oceanography at National Taiwan University (IONTU), said that research on the Kuroshio is extremely important, as the current affects the hydrology, ecology and climate of the regions through which it passes.
Jan's team began studying the Kuroshio in 2015 with funding from the Ministry of Science and Technology. In 2016, they purchased Taiwan's first autonomous underwater vehicle, the Kongsberg Seaglider.
According to Jan, the Seaglider is much more cost-efficient than Ocean Research 1, the IONTU's research vessel, but also requires more technical sophistication to operate.
The study is a testament to the capabilities of Taiwan's oceanographers, he said.
The ministry says the establishment of this observation technique and publication of the study have garnered global recognition, and led to the team at IONTU being invited to join the OceanGliders Boundary Ocean Observing Network (BOON), which is part of the Global Ocean Observing System under the Technical Commission for Oceanography and Marine Meteorology of UNESCO.
Jan has also been invited to serve as a member of the Steering team at BOON. Taiwan is the first and currently the only Asian country represented on the BOON Steering Team.