Science ministry to lead start-up delegation to CES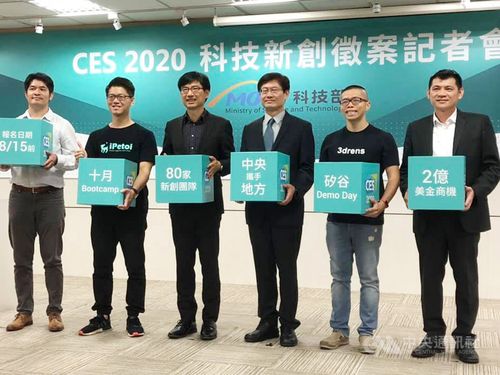 Taipei, July 16 (CNA) The Ministry of Science and Technology (MOST) is to organize a delegation of 80 startups to attend the 2020 Consumer Electronics Show (CES) in Las Vegas, eyeing about NT$6.2 billion (US$200 million)-worth of business opportunities.
It will be the third time MOST has sent a Taiwanese delegation of start-ups to the CES, one of the world's largest tech exhibitions, which is scheduled for Jan. 7-10, 2020.
Deputy Minister of Science and Technology Hsu Yu-chin (許有進) said the 2020 delegation will be the biggest in the three years compared with the 44 delegation members organized by the ministry this year and 32 last year.
As a result of the larger delegation, Hsu said, the participants are expected to generate about NT$6.2 billion in orders or business deals at the 2020 CES, compared with about NT$5.5 billion this year, Hsu said.
He said the central government will work with local governments for the first time to choose the delegation members.
According to Hsu, 40 of the 80 start-ups are expected to be selected by local governments and the other 40 will be chosen by the central government.
Hsu said the selection will be completed through a strict screening process that will have high requirements, and the proposals submitted by the applicants will be judged by venture capitalists and other specialists.
He said the MOST will announce the final list of delegates Sept. 16 before kicking off a series of training courses that will be presided over by specialists from Silicon Valley in the United States.
After attending the CES, the MOST will lead the delegates on a visit to Silicon Valley, a move that is expected to boost their chances for cooperation with and investment by companies in the U.S. innovation hub, Hsu said.
The 80 start-ups are expected to cover a wide range of technologies, including the Internet of Things, automotive applications, smart medical care, robotics and Blockchain technologies.
Blockchain, originally devised for transactions of the digital currency Bitcoin, is seen as the backbone of a new type of Internet in which information on a Blockchain exists as a shared database.
This year, the size of Taiwan's delegation to CES only trailed France's, while eight out of the 44 Taiwanese start-ups won International Awards from the CES.
In the 2019 CES, the Taiwanese startups manned booths where they showcased technologies in the Taiwan Tech Arena as part of Eureka Park, which houses more than 4,400 companies from about 160 countries worldwide.