Startup firm seeks clinical trials in U.S for brain surgery material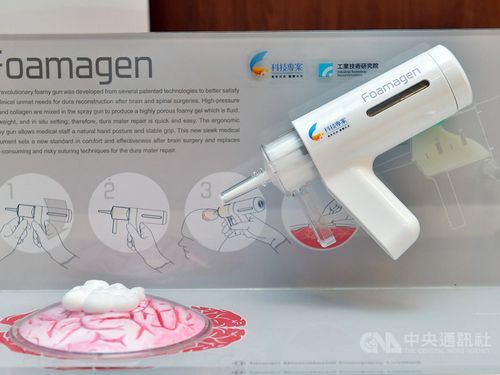 Taipei, May 21 (CNA) Local startup company Taiwan Biomaterial Co. (TWBM) said Tuesday it is planning to apply to the Food and Drug Administration in the United States to conduct clinical trials for its globally patented brain surgery material "Foamagen."
The product, which can assist doctors performing brain surgery, has been certified by the Ministry of Health and Welfare and is being adopted in hospitals across Taiwan, TWBM CEO Liao Chun-jen (廖俊仁) said.
The company has also obtained an international patent for "Foamagen" and hopes to expand the adoption of the technology globally after it passes clinical trials, Liao said.
According to TWBM, "Foamagen" is a new substitute for dura mater, the outermost of three fibrous membranes sheathing the brain and lining the inner surface of the skull.
Foamagen is a foamy material composed of liquid gas and collagen hydrogel. When applied directly onto an open skull after brain surgery, it can seal the dura mater in a matter of seconds without the need for sutures, Liao said.
The dura substitute is contained in a cylindrical cartridge, and attached to an applicator shaped like a spray gun for ease of application, according to TWBM.
The company was created with assistance from the Industrial Technology Research Institute (ITRI), according to ITRI President Edwin Liu (劉文雄).
Liu said he is happy to see TWBM expand and grow, saying the institute has successfully guided and nurtured over 270 startup companies in Taiwan.