HTC unveils new VR headsets ahead of CES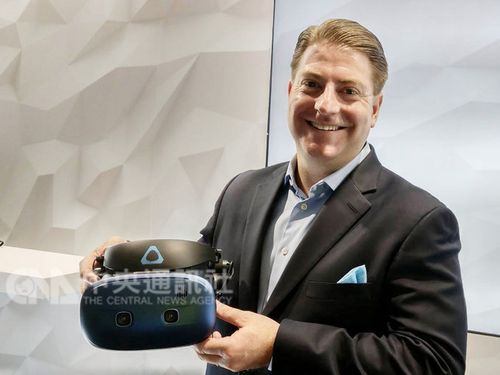 Las Vegas, Jan 7 (CNA) Taiwan-based smartphone vendor HTC Corp., which has entered the virtual reality business, introduced two new VR headsets ahead of the opening of the Consumer Electronics Show (CES) in Las Vegas on Monday.
The VR headsets -- the Vive Pro Eye and the Vive Cosmos -- show HTC's effort to target the global VR 5G market, the company said at a news conference held in Las Vegas.
The Vive Pro Eye, a revised version of the Vive Pro, is equipped with eye-tracking hardware.
The Vive Pro is an upgrade of HTC's first VR headset Vive.
With the eye-tracking hardware, the Vive Pro can be used to control using gaze-based interaction, HTC said.
Daniel O'Brien, head of HTC Americas, said the Vive Pro Eye will target enterprise clients and serve as a way for HTC to enter the B2B market. According to O'Brien, the Vive Pro Eye is scheduled to go on sale in the second quarter of this year.
During the Jan. 8-11 CES , one of the largest consumer electronics exhibitions in the world, American Major League Baseball (MLB), a VR development partner of HTC, will demonstrate the Vive Pro Eye by incorporating MLB Run Derby VR gaming software, according to the Taiwanese firm.
Meanwhile, the Vive Cosmos will run a new platform called "Vive Reality System." Unlike the Vive Pro Eye, the device uses hand controllers, but requires no external sensors placed around the room.
HTC Vive's China President Alvin Wang Graylin (汪叢青) said 2019 is the first year for VR 5G technology and HTC plans to team up with Chinese partners to enter the market for cloud technology based VR in China.
Although HTC has focused on VR business in a bid to offset the weakness of its smartphone operations, those efforts have failed to boost the company's sales as the VR division accounts for only a small fraction of its revenue, analysts said.
In 2018, HTC's consolidated sales totaled NT$23.74 billion (US$768 million), down 61.78 percent from the previous year, the seventh consecutive year of decline.
HTC posted a loss per share of NT$3.18 in the third quarter, worse than the NT$2.53 loss per share seen in the previous quarter.
However, although HTC posted a net loss in the third quarter, it still recorded NT$20.01 in earnings per share for the first nine months of the year because of the big one-time profit it made on a US$1 billion sale of its smartphone ODM assets to Google in the first quarter.
Analysts said HTC is likely to report another net loss for the fourth quarter.