Taiwan wins big at Moscow innovation fair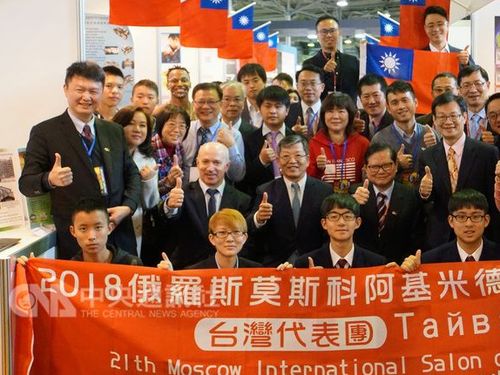 Moscow, April 9 (CNA) Taiwan took home big prizes from the recent Moscow International Salon of Inventions and Innovation Technologies, ranking second only after the host country in terms of total score, the Taipei-based Chinese Innovation and Invention Society (CIIS) said Monday.
Taiwan's delegation, led by the CIIS, won 19 gold, 19 silver and four bronze medals, along with eight special and valuable prizes, among the 700-plus entries from 27 countries at "Archimedes-2018," as the show was called.
President Tsai Ing-wen (蔡英文) and Vice President Chen Chien-jen (陳建仁) sent congratulatory messages to the delegation upon learning of its success at the competition, one of the biggest of its kind in the world, which was held April 5-8 in Moscow.
One of the inventions, an App developed by students from TransWorld University in Yunlin for a sound-controlled irrigation system, won a gold medal and a special and valuable prize.
Designed by Taiwanese and Malawian students, the App is aimed at helping to fight water shortage in Malawi by saving water with the use of voice-controlled switches on water systems, said professor Chang Hung-jung (張宏榮), who guided the research on the project.
Another device, presented by the Electronic Systems Research Division of National Chung-Shan Institute of Science & Technology (NCSIST), also snatched a gold medal and a special and valuable prize.
It is a radio-frequency identification tag that can be attached to the seals of alcoholic drink bottles to prevent counterfeiting, NCSIST said.
The key technology has been introduced to Taiwan-based producers, NCSIST said, adding that it also sought to explore cooperation opportunities with foreign companies at the show in Moscow.