HTC issues warning to Samsung phone buyers of possible remorse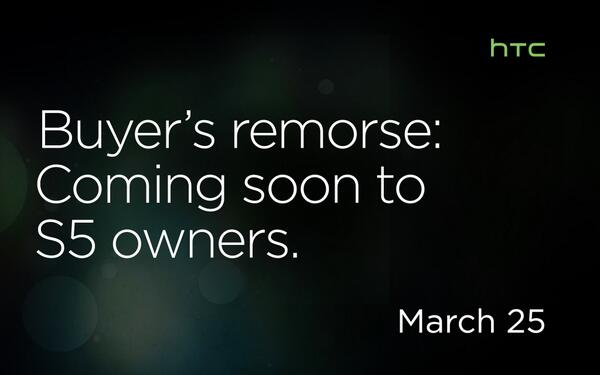 Taipei, Feb. 25 (CNA) HTC Corp. has taken an aggressive posture against rival Samsung Electronics Co., saying that consumers who intend to buy the Samsung Galaxy S5 will soon regret their choice when HTC unveils its next flagship phone.
In a post on its official Twitter account on Monday, HTC said: "Buyer's remorse: Coming soon to S5 owners."
It said they will feel regret on March 25, when the Taiwanese smartphone maker will launch the successor to its flagship One series in London and New York.
The post came just hours after Samsung unveiled its latest flagship device for this year, the Galaxy S5, on the opening day of the Mobile World Congress (MWC) trade show in Barcelona.
The S5 is waterproof and features a 5.1-inch 1080p display, a Qualcomm quad-core 2.5GHz processor, a 16-megapixel main camera, a fingerprint scanner embedded in its home button and 4G LTE connectivity.
In comparison, HTC's next flagship smartphone is reportedly to be named "The All New HTC One" and will sport a full-HD 1080p display of around 5 inches, the Sense 6.0 user interface, a Qualcomm quad-core processor and a twin-sensor rear camera.
Representatives for Samsung could not be immediately reached for comment.
(By Jeffrey Wu)ENDITEM/ls
Mobile World Congress 2014:●HTC unveils mid-range Desire phones, supercomputer initiative●Sony introduces new smartphone in Spain, Taiwan●Samsung's first 4G phone using 700 MHz to hit Taiwan in Q2●MediaTek reveals 64-bit LTE chip at 'mainstream price'●LG said to sell new G Pro 2 phablet in Taiwan in April●Acer debuts Liquid E3, Z4 phones ahead of Mobile World Congress