ELECTION 2024
/
DPP's Lai and Hsiao register candidacies for 2024 presidential poll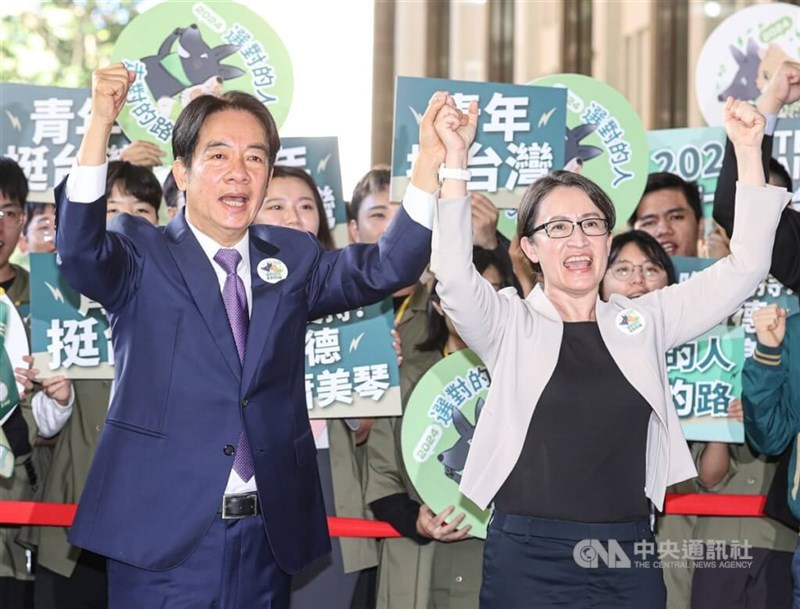 Taipei, Nov. 21 (CNA) Ruling Democratic Progressive Party (DPP) presidential front-runner Lai Ching-te (賴清德) and running mate Hsiao Bi-khim (蕭美琴) have formally registered to run in Taiwan's 2024 election, the first duo to do so as the opposition remains stuck on whether to run on a joint ticket.
"Hsiao Bi-khim and I have formally registered to run for the Republic of China's president and vice president," Lai, who is currently vice president, told reporters outside the Central Election Commission shortly after completing the registration process.
"We are firmly resolved and fully confident," Lai said. "We both deeply love this land and this country, and are committed to doing our utmost to safeguard Taiwan and promote democracy, peace and prosperity," he said.
Lai said he and Hsiao would continue leading Taiwan on a stable path, seeking opportunities to engage with the international community while avoiding heavy reliance on China.
The Lai-Hsiao pairing represents responsible and steady governance as both have had decades of experience serving as public servants, Lai said, contending that Taiwanese society could not afford turmoil, nor could it be treated as a testing ground.
Lai was likely hitting back at Taiwan People's Party Chairman and presidential nominee Ko Wen-je (柯文哲), who said last week his proposal to form an unprecedented "coalition" government in Taiwan with the Kuomintang (KMT) would be an "experiment."
For the past two months, Ko has been in talks with the KMT and its presidential nominee Hou Yu-ih (侯友宜) about forming a joint presidential ticket, but such collaboration seems increasingly improbable after a fallout over the weekend between the two sides.
Meanwhile, business tycoon Terry Gou (郭台銘) is eligible to run independently, although local media has speculated that Gou, founder of manufacturing giant Hon Hai Precision Industry (Foxconn), could also seek to collaborate with Ko.
The deadline for registering presidential candidacies is on Friday at 5:30 p.m.
View All