TSMC founder meets with White House adviser at APEC summit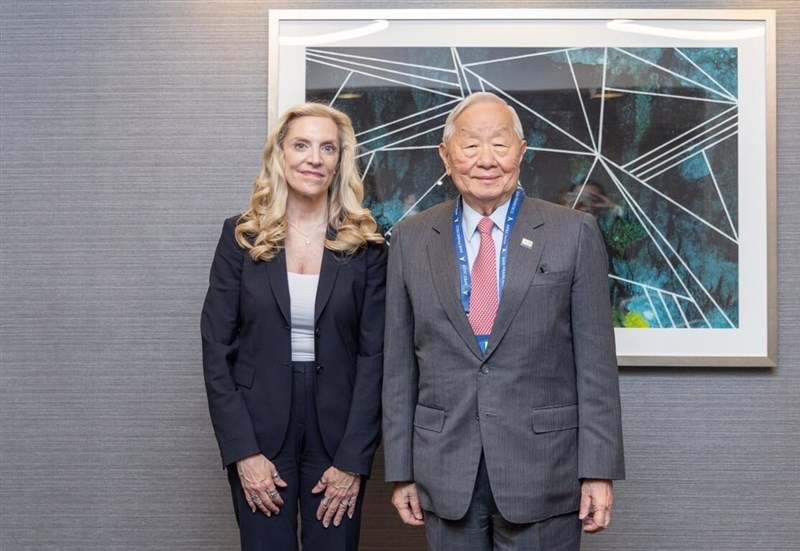 San Francisco, Nov. 16 (CNA) Morris Chang (張忠謀), who is representing Taiwan at the Asia Pacific Economic Cooperation (APEC) summit, met with top White House economic adviser Lael Brainard on Thursday to discuss economic ties between Taipei and Washington.
According to Taiwan's delegation to the APEC Economic Leaders' Meeting, the TSMC founder met with Brainard on the sidelines of the summit and discussed a range of economic topics, with the two sides expressing hopes for closer bilateral economic ties.
Brainard, who has served as vice chair of the U.S. Federal Reserve, is currently the director of the White House's National Economic Council.
She is responsible for supervising the implementation of infrastructure projects and the Creating Helpful Incentives to Produce Semiconductors and Science Act (CHIPS Act).
Under the CHIPS Act, the U.S. government will inject US$52.7 billion into the American semiconductor industry to shore up its manufacturing and R&D strength.
That includes an infusion of US$39 billion in subsidies to companies to build new facilities and expand operations in the United States, including for TSMC, which is building two advanced wafer fabs in Arizona.
Chang and Brainard met for about 40 minutes. Other Taiwanese officials in the meeting were Taiwan's envoy to the United States Hsiao Bi-khim (蕭美琴), National Security Council Deputy Secretary-General Hsu Szu-chien (徐斯儉), top trade negotiator John Deng (鄧振中) and Finance Minister Chuang Tsui-yun (莊翠雲).
Brainard also attended the meeting between U.S. President Joe Biden and Chinese leader Xi Jinping (習近平) on Wednesday.
Also on Wednesday, Chang spoke with U.S. Secretary of State Antony Blinken at an APEC reception, Taiwan's delegation said.
According to Chang's wife, TSMC Charity Foundation Chairperson Sophie Chang (張淑芬), the TSMC founder is scheduled to meet with Singapore Prime Minister Lee Hsien Loong (李顯龍) on Friday.
Earlier this week, Taiwan's top trade negotiator Deng told CNA that Taiwan's bilateral talks with other APEC members at the ongoing forum were aimed at building up support for Taiwan's participation in the Comprehensive and Progressive Agreement for Trans-Pacific Partnership (CPTPP).
The CPTPP currently has 11 members: Australia, Brunei, Canada, Chile, Japan, Malaysia, Mexico, New Zealand, Peru, Singapore and Vietnam. The United Kingdom will join the trade bloc soon.
The 92-year-old Chang has served as the envoy of Taiwan's president to the APEC leaders summit seven times. He first attended the annual APEC event in that role in 2006, during the administration of then-President Chen Shui-bian (陳水扁).
Before leaving for San Francisco, Chang said he would convey Taiwan's aspirations to join the global community and help "create a resilient and sustainable future for all," which is the theme of the 2023 APEC forum.
Taiwan joined APEC in 1991 under the name "Chinese Taipei," but its presidents have been blocked by China from attending the APEC leaders summit.
Related News
Nov. 17: Taiwan APEC envoy Morris Chang meets with U.S. vice president
Nov. 17: Biden reaffirms U.S. commitment to Taiwan's self-defense: White House
Nov. 16: NDC chief meets with U.S. undersecretary to discuss bilateral cooperation
Nov. 16: Taiwan thanks Biden for supporting status quo in meeting with Xi
Nov. 15: Taiwan's APEC envoy, TSMC founder Chang, arrives in San Francisco
Nov. 15: Republican senators urge Biden not to give in on Taiwan in Xi meeting
Nov. 14: Biden to call for cross-strait peace, stability in meeting with Xi
Nov. 10: TSMC founder Chang vows to enhance Taiwan's visibility as APEC envoy