NDC chief meets with U.S. undersecretary to discuss bilateral cooperation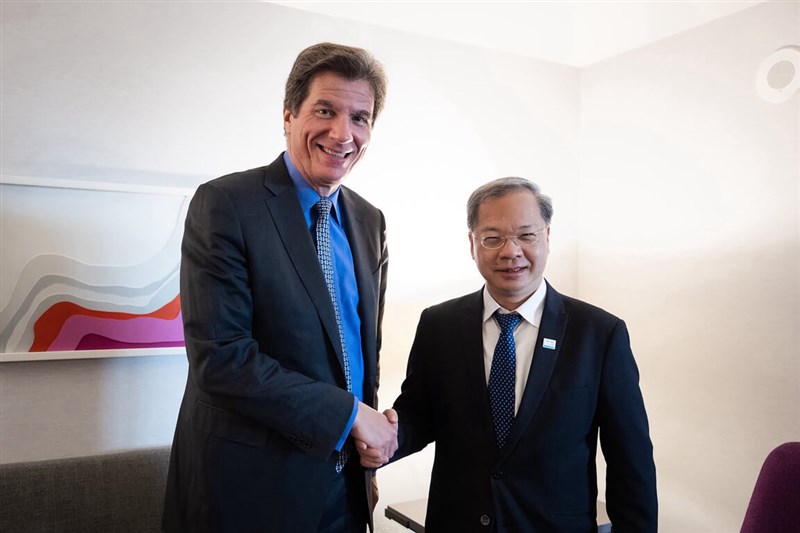 San Francisco, Nov. 15 (CNA) National Development Council (NDC) Minister Kung Ming-hsin (龔明鑫) has met with Jose W. Fernandez, the U.S. undersecretary of state for economic growth, energy and the environment, in San Francisco to discuss Taiwan-U.S. cooperation.
The discussion was held Tuesday morning on the sidelines of the two-day Asia-Pacific Economic Cooperation (APEC) Ministerial Meeting from Nov. 14-15, Kung said Wednesday.
During the event, Fernandez touched on a variety of topics, including the upcoming annual U.S.-Taiwan Economic Prosperity Partnership Dialogue (EPPD), the avoidance of double taxation, and the U.S. Taiwan Initiative on 21st Century Trade.
The U.S. undersecretary also expressed hope that the U.S.-Taiwan economic partnership could expand to include third countries in the future, particularly concerning collaboration in the field of 5G network, net-zero emissions and healthcare, to demonstrate the benefits of working with Taiwan to the world.
In response, Kung told Fernandez that Taiwan has already been actively working to promote cooperation with third countries, citing for example that under its New Southbound Policy, Taiwanese medical and health-related industries have expanded their cooperation opportunities with these countries.
Meanwhile, the two officials also exchanged opinions on the issue of economic coercion, which Fernandez described as being a major concern for the Group of Seven (G7) nations.
At a press conference held after the ministerial meeting on Wednesday, Minister without Portfolio John Deng (鄧振中) highlighted that Taiwan is striving to join the Comprehensive and Progressive Agreement for Trans-Pacific Partnership (CPTPP).
Deng and Kung were the two officials representing Taiwan at this year's APEC Ministerial Meeting.
APEC is an important platform for Taiwan because it allows the country to hold in-person discussions with ministers from other countries, Deng said, adding that those who have joined the CPTPP are also APEC members.
The CPTPP, which grew out of the Trans-Pacific Partnership that the U.S. left in January 2017, is one of the world's biggest trade blocs, representing a market of 500 million people and accounting for 13.5 percent of global trade.
Its 11 signatories are Australia, Brunei, Canada, Chile, Japan, Malaysia, Mexico, New Zealand, Peru, Singapore and Vietnam.
The United Kingdom formally signed the trade agreement on July 16, 2023, and will join when its accession has been ratified by all parties.
Taiwan's application to join the CPTPP was made on Sept. 22, 2021, less than a week after China also applied for membership.
According to Deng, Taiwan is willing to meet the high standards set by the CPTPP, which requires that members ensure their domestic economic policies are in line with the decrees of the trade pact.
He noted that Taiwan has never been sued by the World Trade Organization, nor been involved in any major trade disputes with other countries.
Discussing the Ministerial Meeting, Kung, who was also at the press event, said they shared Taiwan's experience regarding its digital transformation and added that artificial intelligence (AI) can play a role in enhancing the quality of medical care.
Taiwan is committed to bridging the digital gap and strengthening digital resilience, particularly regarding the increasing influence of AI, Kung said.
Although there are risks, Kung said that with proper governance, AI can benefit humankind and that Taiwan is willing to cooperate with APEC economies to strengthen regional digital health.
In terms of the green transformation, which refers to the comprehensive shift towards a more sustainable and environmentally friendly society and economy, the NDC chief said he also highlighted that Taiwan aims to achieve net-zero emissions by 2050.
Concerning the Indo-Pacific Economic Framework for Prosperity (IPEF) ministerial meeting, which was also held in San Francisco this week, Deng said Taiwan will continue on its current development path in its attempt to join.
The Washington-initiated IPEF was launched by U.S. President Joe Biden on May 23, 2022, to enhance the U.S.' economic engagement in the Indo-Pacific region. It was launched with 14 participating founding member nations, not including Taiwan, but it is possible for other countries to join.
Taiwan's government has said the decision to exclude Taiwan from the IPEF was regrettable, as the country is an important economy that plays a crucial role in global supply chains and therefore should be included.