ELECTION 2024
/
Presidential aspirants agree on renewables, diverge on nuclear energy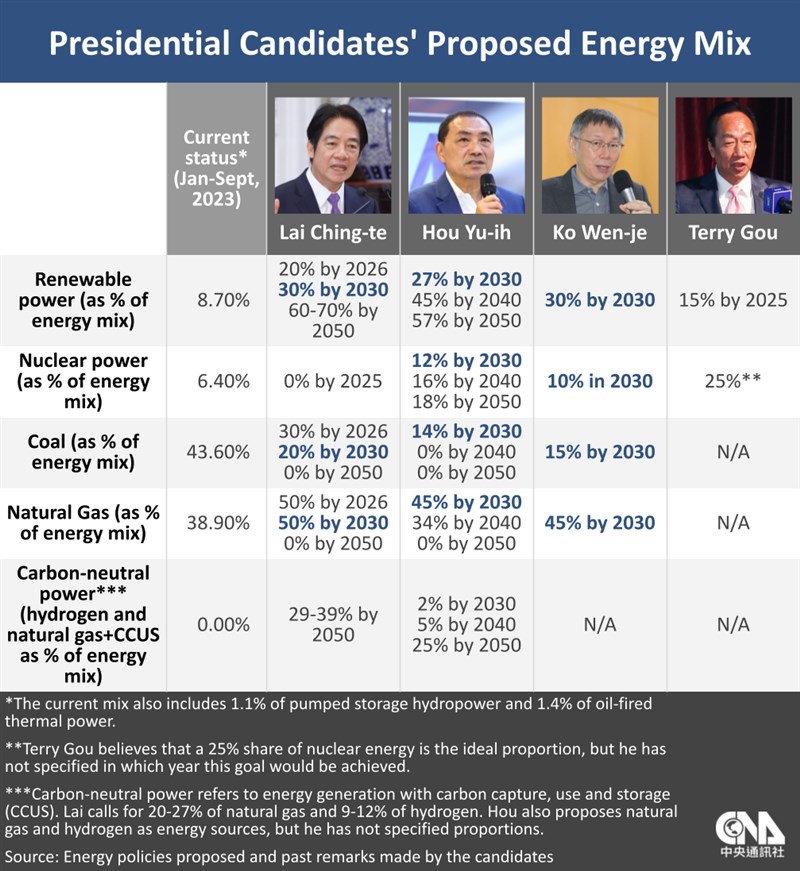 By Alison Hsiao, CNA staff reporter
Taiwan's four presidential candidates have all proposed policies on Taiwan's energy future, but with different levels of clarity.
Among them, there is broad agreement on the importance of renewable energy in Taiwan's energy mix in the future. Three of the four have proposed generating increasingly larger chunks of renewable energy over time, though they are vague on the details.
At the same time, however, there is considerable disagreement on whether Taiwan should continue to use nuclear power and in what form.
Environmental groups said the politicians have promised too little and not achieved enough to date, but also recognized that there was an implicit consensus on the idea of relying more on clean energy in the future.
Renewable energy: Common ground
The three candidates nominated by political parties have accepted the global concern over the climate crisis and the general trend of going green, and all of them have said that under their energy policies, renewable energy will account for about 30 percent of Taiwan's electricity production by 2030.
Ruling Democratic Progressive Party (DPP) candidate, Vice President Lai Ching-te (賴清德), has called for a "second energy transition" that focuses on smart technology to decarbonize and achieve net-zero.
The "second" is a reference to the "first energy transition" of "less coal, more gas, more green, non-nuclear" initiated by incumbent President Tsai Ing-wen (蔡英文) after she was voted into office in 2016.
Kuomintang (KMT) presidential nominee Hou Yu-ih (侯友宜), Taiwan People's Party (TPP) nominee Ko Wen-je (柯文哲), and Hon Hai founder and independent aspirant, business tycoon Terry Gou (郭台銘), do not deviate too much from a desire for a green transition.
Their energy policies all refer to wind power, solar power, geothermal energy, hydrogen, and marine energy as sources of power to be developed in the future, and they also stress the need for smart grids and energy storage capabilities.
Another common proposal, except for Gou, has been the cultivation of professionals for green industries and carbon-related management skills needed by corporations to achieve net-zero goals.
Translating those policies into reality, however, will be challenging, as the DPP has found in its nearly eight years in power.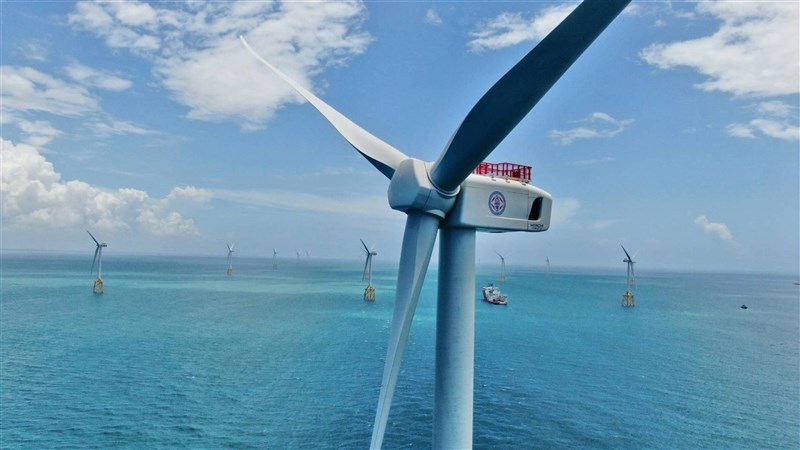 Focusing on developing renewable energy to replace nuclear power and increasing gas-fired power as a substitute for coal-generated electricity, the Tsai government proposed a goal of 50 percent natural gas, 30 percent coal and 20 percent renewable energy by 2025.
But delays in the rollout of renewable energy, acknowledged by Lai's pushing back of the goal to hit 20 percent renewable energy to 2026, meant that renewables have only accounted for 8.70 percent of Taiwan's electricity generation in the first nine months of 2023, up from 8.3 percent in all of 2022, according to Bureau of Energy figures.
Solar and wind power, expected to be the cornerstone of renewable energy generation, have only accounted for 6.0 percent of the electricity mix this year as of the end of September, up from 4.9 percent for all of 2022, Bureau of Energy figures show.
Green Citizens' Action Alliance Secretary-General Tsui Shu-hsin (崔愫欣) said the policy goals represent an improvement from the presidential election four years ago in that climate change and renewable energy have grown in salience in this year's policy debate.
The current government's 12 strategies for "Taiwan's 2050 Net-Zero Transition" proposed in 2022, though late in coming, is at least a starting point, and while the opposition nominees have not given credit to the government, the energy platforms they have proposed do, Tsui argued.
Greenpeace Climate and Energy Project manager Chen Yung-jen (陳詠仁) agreed, saying it was laudable that the politicians were all envisioning a green future.
"But they all fall short of the 40 percent target by 2030 that Greenpeace is urging," he said, referring to the percentage of renewable energy in the energy mix.
Nuclear power debate
That nuclear power has been at the center of the energy policy debate is disconcerting when parties of all stripes agree on a green future, Tsui contended.
That might be the case, however, because nuclear power is the area in which opposition candidates strike a distinctly different tone from the incumbent DPP.
Lai has followed the policy line of the DPP and Tsai in saying that the Jinshan (No. 1) Nuclear Power Plant, the Kuosheng (No. 2) Nuclear Power Plant, and the Ma-anshang (No. 3) Nuclear Power Plant would be decommissioned in accordance with the law should he be elected.
The Nuclear Reactor Facilities Regulation Act and other nuclear licensing laws stipulate that operating licenses for nuclear reactors are valid for no more than 40 years at the longest, but their lifetimes can be extended if an application to renew the license is filed by the licensee five to 15 years before the license expires.
The No. 1 and No. 2 nuclear plants began their decommissioning processes (to span 25 years) in 2018 and 2021, respectively.
The No. 3 plant, which started operations in 1984, will enter into the decommissioning process starting next year, based on existing regulations.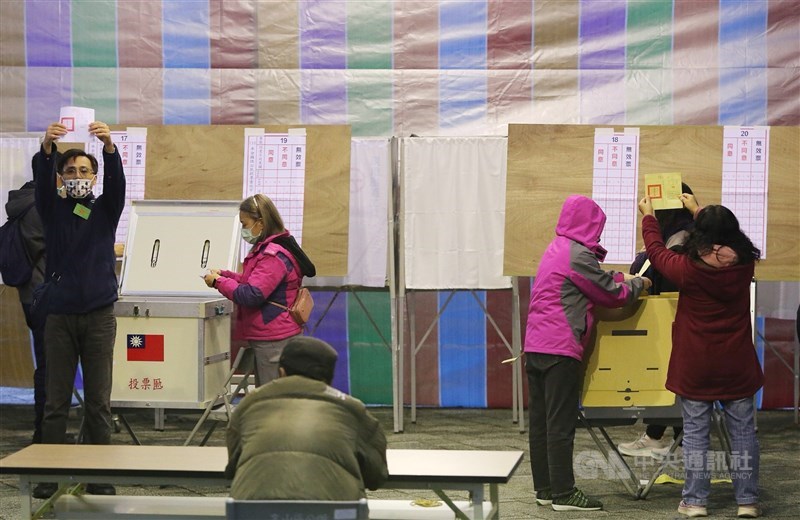 Lai said the Longmen (No. 4) Nuclear Power Plant, which was mothballed in 2014 amid anti-nuclear protests after nearing completion, will not be operated as a referendum on its operation in 2021 did not pass.
Under Taiwan's Referendum Act, an issue can be resubmitted for another referendum two years after an initial referendum on that same issue is held.
The DPP nominee said there was "no ideology" involved, as he and society would accept nuclear power if safety concerns and the handling of nuclear waste could be solved.
Yet in a question and answer session with students at National Taiwan University in May 2023, Lai said nuclear energy was still a viable option in a pinch.
Asked by a student what Lai would do if tensions with China led to a blockade cutting off Taiwan's natural gas imports, he said Taiwan's nuclear reactors could be activated, but did not elaborate, including on how he would handle the legal obstacles involved.
Hou said that if elected, he would complete examinations of nuclear power plants No. 1 to No. 3 to make sure they could have their licenses extended safely, and then restart their operation.
As for the No. 4 plant, a dedicated "safety review committee" would be convened, staffed by leading domestic and foreign nuclear safety experts, to examine the reactors thoroughly and safely start their operation, according to Hou.
Aside from having doubts about restarting the No. 1 plant because it is well into its decommissioning process, Ko's views on the other nuclear plants were similar to Hou's.
He called for the extension of operations of the No. 2 and No. 3 plants and a re-examination of the No. 4 plant, saying that nuclear power should be a transitional energy source before more green power can be secured.
Gou's support for nuclear power has been clear. Aside from supporting the operation of Taiwan's existing plants (though he has made conflicting remarks on No. 4 plant), he has also proposed the installation of small modular reactors (SMR), at some point upholding a policy of "one SMR per city/county."
The candidates could all find efforts to build up Taiwan's nuclear program complicated by legal and practical barriers, even if Lai argued that nuclear power could be available in the future as an emergency source of power.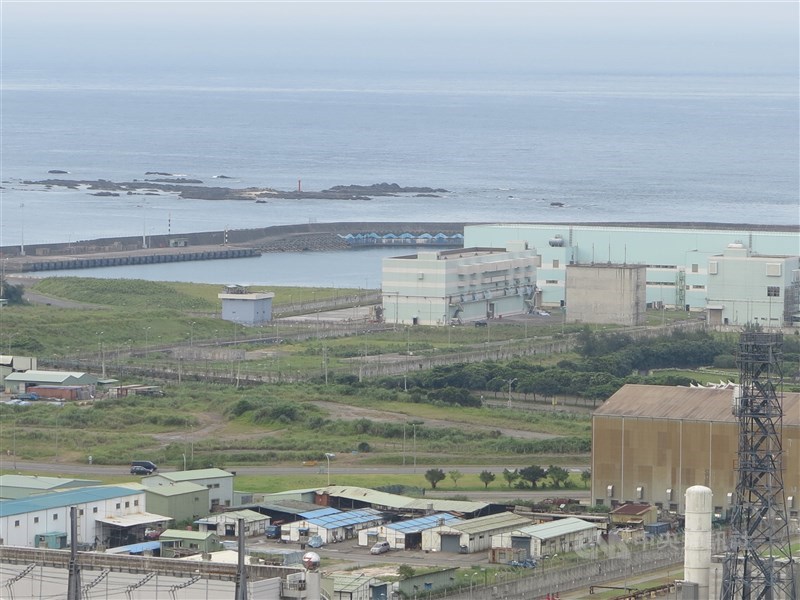 Greenpeace has argued that increasing the use of nuclear energy by 2030 would be "scientifically and legally" unviable.
Legally, Chen said, the period of time nuclear power plants can be operated are regulated by existing laws, and extending their life spans requires applications five to 15 years before their legal periods of operation expire.
Scientifically, he said, work to complete nuclear power projects that had been suspended has averaged about 118 months around the world, according to a study by Greenpeace. Applied to this scenario, the No. 4 plant would not start operations until 2034.
Based on the proposals of the candidates, Tsui disagreed with the argument that getting rid of nuclear power would hurt the green transition because it would mean more use of coal and natural gas.
There are no significant differences between the coal and natural gas percentages in the nominees' energy mix proposals for 2030," Tsui said, with Hou proposing 14 percent coal and 45 percent natural gas compared to Lai's proposal of 20 percent coal and 50 percent natural gas by 2030.
Enditem/ls
Related News
Nov. 6: Taiwan's first net-zero academy opens in Kaohsiung
Nov. 1: TPP's Ko outlines energy policy platform
Oct. 24: Geothermal power plant inaugurated in Yilan
Oct. 15: Taiwan set on carbon 'fee' rather than 'tax' to cut carbon
Aug. 19: Gov't will not rule out nuclear power if safety is guaranteed: DPP's Lai
Aug. 9: KMT presidential candidate to restart nuclear power plants if elected
View All