ELECTION 2024
/
KMT, TPP agree to collaborate in legislative elections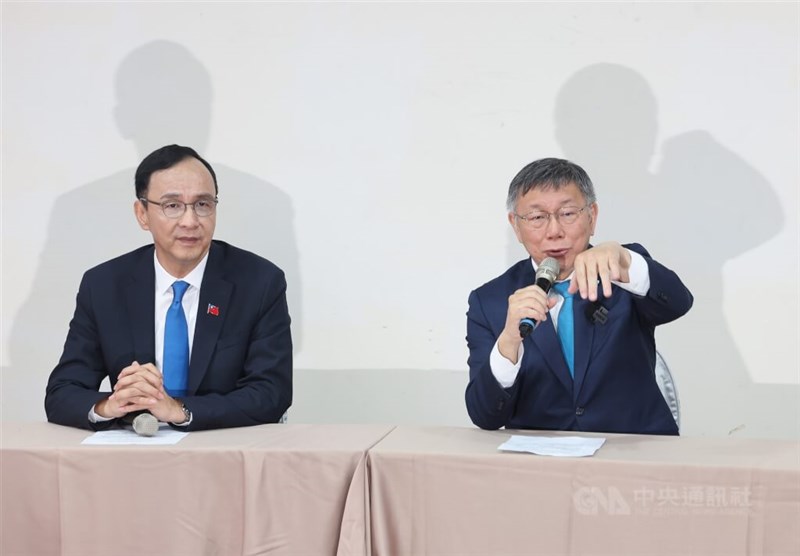 Taipei, Oct. 30 (CNA) Heads of the Kuomintang (KMT) and the Taiwan People's Party (TPP) agreed on Monday to collaborate in the Jan. 13 elections to maximize seats in the Legislature and avoid what they called "one-party democratic rule" in Taiwan by the ruling Democratic Progressive Party (DPP).
However, the two main opposition parties made no progress in terms of how to select the "strongest opposition presidential candidate" to end the DPP's eight-year rule, during Monday's talks.
The conclusion was reached following an hour-long meeting between KMT Chairman Eric Chu (朱立倫) and TPP Chairman and presidential candidate Ko Wen-je (柯文哲) at the Mayor's Residence Art Salon in Taipei.
Speaking at a post-talk press event, Chu told reporters that both parties agreed to deepen Taiwan's democratic development so there will no longer be a "one-party monopoly and winner-takes-all politics" in the country.
Both parties also agreed that future cross-Taiwan Strait relations and cross-strait dialogue, which has been suspended since President Tsai Ing-wen (蔡英文) assumed office in May 2016, should be based on the Republic of China Constitution and related Taiwan laws.
Meanwhile, the KMT and TPP also agreed that Taiwan's next president should report to the Legislative Yuan in the future instead of passing the responsibility to the premier, according to Chu.
According to the law governing the Legislative Yuan's power, when the Legislative Yuan convenes each year, it may hear a report on the state of the nation delivered by the president.
However, no such report has ever been delivered because the ruling administrations and opposition parties have been unable to agree on whether the president should stay to answer questions from lawmakers after such an address.
"Most importantly, the two parties agreed to work together in certain legislative electoral districts to maximize their legislative seats," Chu said.
He further said that Monday's hour-long meeting did not touch on the issue of how to create a joint KMT-TPP presidential ticket "due to limited time and both sides focusing on the legislative elections."
According to the KMT chair, both sides are still interested in coming up with a joint ticket and will continue to engage in talks on the issue.
Meanwhile, Ko told reporters that Monday's talks had "historic significance" because they promoted cross-party cooperation in Taiwan.
"Although it is impossible that we agree on every issue, we can still talk and find a way to cooperate," he said.
Asked about a potential joint ticket, Ko said both sides wanted to resolve those issues that can be resolved first. Other more controversial issues including the joint presidential ticket will be dealt with later as soon as possible, the former Taipei mayor said.
Monday's talks were the latest development in potential KMT-TPP cooperation in the Jan. 13 presidential and legislative elections.
Several members of the campaign teams established by Ko and KMT presidential candidate Hou Yu-ih (侯友宜) sat down for the first time on Oct. 14 to explore a possible electoral pact, including a joint presidential ticket.
However, they failed to reach consensus on whether to determine who will be top of the joint presidential ticket via an open primary or public opinion polls.
The two parties have agreed to continue talks on collaboration as both agree that their supporters want to see a unified opposition to remove the DPP from office.
Related News
Oct. 30: KMT candidate to attend talks with TPP on joint presidential ticket
View All