Arizona governor arrives in Taiwan for 5-day trip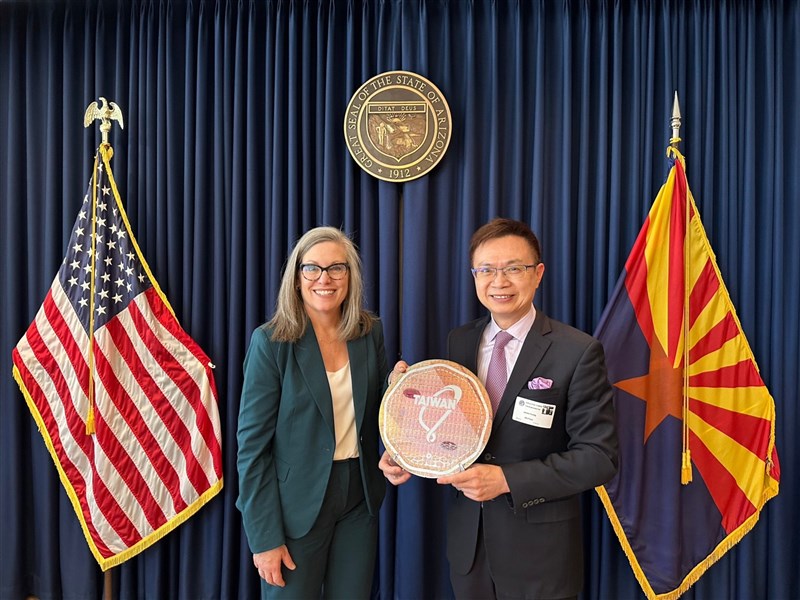 Taipei, Sept. 16 (CNA) The governor of the U.S. State of Arizona Katie Hobbs arrived in Taiwan on Saturday to meet with President Tsai Ing-wen (蔡英文) and Taiwanese economics officials, Taiwan's Ministry of Foreign Affairs (MOFA) said.
Hobbs, who assumed office in January as a governor from the Democratic party, is leading a delegation to Taiwan for a five-day visit from Saturday to Wednesday (Sept. 16 to 20), MOFA said in a brief press release.
The delegation will meet with Tsai, attend a banquet hosted by Deputy Foreign Minister Roy Lee (李淳), and hold talks with top Taiwanese officials handling economic and trade affairs, as well as industry representatives, the release said.
In addition, Hobbs will attend a ceremony where the National Taiwan Science Education Center and the Arizona Science Center will sign a memorandum of understanding (MOU) that will pave the way for cooperation on science education, the release added.
The southwestern state in the U.S. is where Taiwan Semiconductor Manufacturing Co. (TSMC), the world's largest contract chipmaker, is investing $40 billion to build two chip fabs with U.S. government support, including subsidies.
However, the company has said the start of production at the first fab would be delayed to 2025 from the original target date in late 2024, blaming a shortage of skilled workers, but some media reports have citied local workers as saying that management problems were the main reasons for the delay.