ELECTION 2024
/
KMT's Hou to visit U.S. for eight days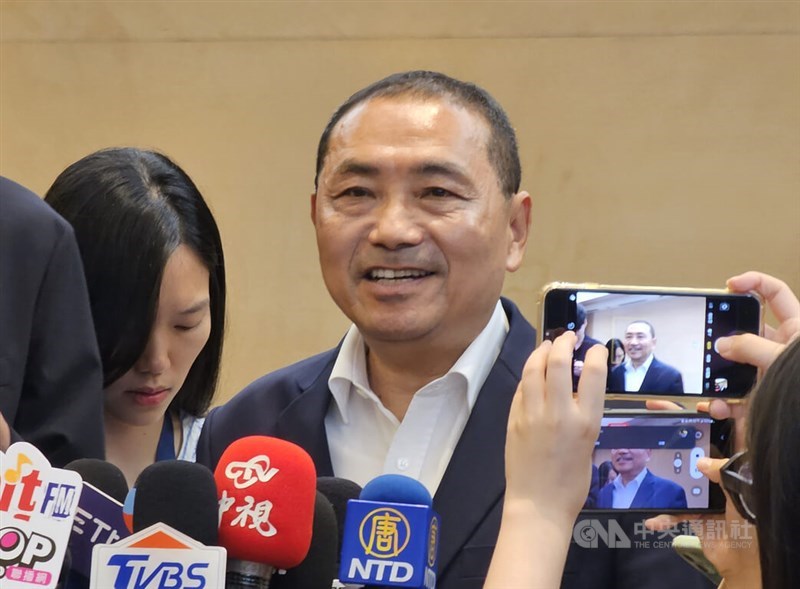 Taipei, Sept. 13 (CNA) New Taipei Mayor Hou Yu-ih (侯友宜), presidential candidate of the opposition Kuomintang (KMT), will set out on an eight-day trip to the United States on Sep. 14, according to Hou's campaign office on Wednesday.
The U.S. has always been a strong ally, while Taipei and Washington share the values of democracy and freedom, Hou said.
In a press release, Hou's campaign office said the aim of the trip is to assert his commitment to the democratic system in the Republic of China (Taiwan), its value of freedom, and maintaining peace and stability across the Taiwan Strait, as well as strengthening bilateral ties between Taiwan and the U.S., while creating more opportunities for cooperation, reciprocity and mutual benefit.
The office added that the trip is a "journey of dialogue and deepening friendship."
During his visit from Sep. 14-22, Hou will visit New York, New Jersey, Washington and San Francisco, said the office.
According to the office, officials including KMT Vice Chairman Andrew Hsia (夏立言), KMT envoy to the U.S. Alexander Huang (黃介正), as well as Vice Dean of National Chengchi University's College of International Affairs Lu Yeh-chung (盧業中) and Director of Tamkang University's Graduate Institute of International Affairs and Strategic Studies Li Da-chung (李大中) will be part of Hou's delegation to the U.S.
Hou's itinerary in New York will include visits to think tanks, the National Committee on American Foreign Policy and Council on Foreign Relations, where he will speak at symposiums.
In addition, he will meet with Joseph Kahn, the executive editor of The New York Times and be interviewed by Bloomberg News, said the office.
Hou will then meet with members of the U.S. Congress and with Laura Rosenberger, chairwoman of the American Institute in Taiwan in Washington, and has been invited to speak at The Brookings Institution and The Heritage Foundation.
After Washington, Hou will visit San Francisco to meet with heads of technology companies.
Meanwhile, Hou will also meet with Taiwanese expatriates in New York, Washington D.C., New Jersey, and San Francisco to seek their support for his presidential bid in January, said the office.
Update: KMT's Hou departs for U.S., to meet with AIT chair, lawmakers (Sept. 14)
In the Jan. 13, 2024 presidential election, Mayor Hou will face Vice President Lai Ching-te (賴清德) of the Democratic Progressive Party, former Taipei Mayor Ko Wen-je (柯文哲) of the opposition Taiwan People's Party, and possibly Terry Gou (郭台銘), an aspiring independent presidential candidate who founded the Taiwan-based manufacturing giant Hon Hai Precision Industry Co.
View All