Invoking 'Three Little Pigs,' tycoon Gou invites rivals to talk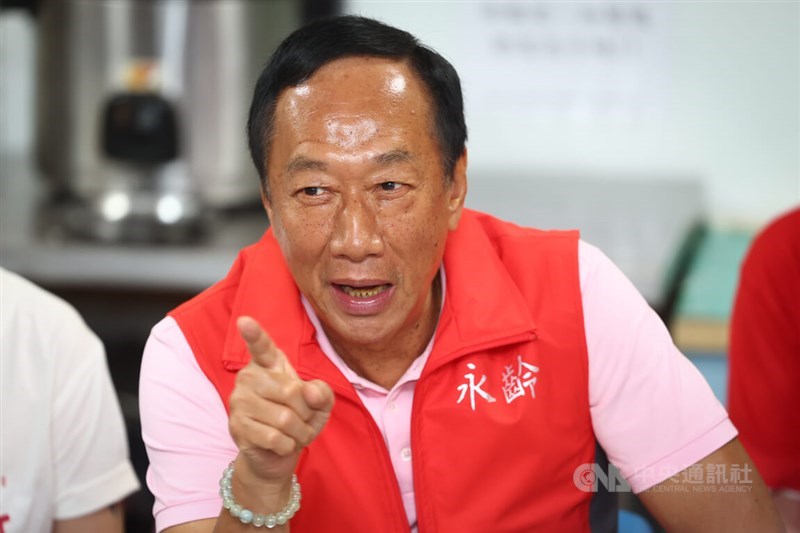 Taipei, Aug. 18 (CNA) Terry Gou (郭台銘), founder of Taiwan-based manufacturing giant Hon Hai Precision Industry Co., has invited the two candidates challenging the Democratic Progressive Party (DPP) in January's presidential election to discuss cooperation.
At a banquet held Thursday by a Gou-initiated alliance on mainstream public opinion, Gou said the opposition camp needed to work together if it hoped to defeat the DPP in the presidential election and push for Taiwan's democratic development.
The main candidates in the election are Vice President Lai Ching-te (賴清德) of the DPP, New Taipei Mayor Hou Yu-ih (侯友宜) of the main opposition Kuomintang (KMT) and former Taipei Mayor Ko Wen-je (柯文哲) of the opposition Taiwan People's Party (TPP).
Gou himself is said to be considering an independent run at the presidency, though polls currently have him in fourth place were he to declare his candidacy.
While Gou acknowledged he lacked the election experience of Hou and Ko, he said Taiwan's people wanted to see cooperation and unity in the opposition camp and that mainstream opinion was focused on cross-Taiwan Strait peace, economic prosperity, and clean politics.
Given that environment, Gou invited Hou and Ko to sit down and discuss an alliance focused on defeating the DPP's Lai, whom Gou described as the "big bad wolf" in the fable "The Three Little Pigs."
In that story, Gou said, the three pigs only fought off the wolf's attacks by uniting behind a solid house made of bricks built by the youngest little pig.
Such an alliance was how the opposition camp could work to defeat Lai and his party, Gou said, contending that the pro-independence DPP has undermined cross-strait ties and put Taiwan at risk of war with China while also weakening Taiwan's democratic mechanisms.
Gou did not say what form this alliance would take or his role in it, but the appeal and invitation came as Gou himself has divided opposition opinion after losing out in the KMT's nomination of a candidate earlier this year.
Rather than hold an open primary, the KMT opted to "recruit" Hou as its nominee over Gou based on what the party said was polling data.
Before engaging in the process, Gou said he would support whoever was nominated, but he went back on his pledge after losing out, hurting support for Hou, who had been seen as the front-runner of the opposition camp.
Ko did not immediately respond to Gou's invitation while Hou said Friday he would visit Gou in person to demonstrate his sincerity in asking the Hon Hai founder for advice.
Hou said he tried to visit Gou three times in the past, but nothing was ever arranged.
In a response that could suggest a shift in his position, Gou seemed interested in meeting with Hou, and suggested that bygones be bygones.
Meanwhile, KMT legislative caucus head Tseng Ming-chung (曾銘宗) said more than 60 percent of voters wanted to see the DPP defeated in the presidential race and that his party would do its best to achieve the goal.
He said his party welcomed any communications within the opposition camp.
TPP lawmaker Jang Chyi-lu (張其祿) said that Ko rather than Gou was the proper person to call on the opposition camp to unite because Ko is currently ahead of Hou in most opinion polls, though both trail Lai.