Japanese opposition lawmakers visit Taiwan to strengthen ties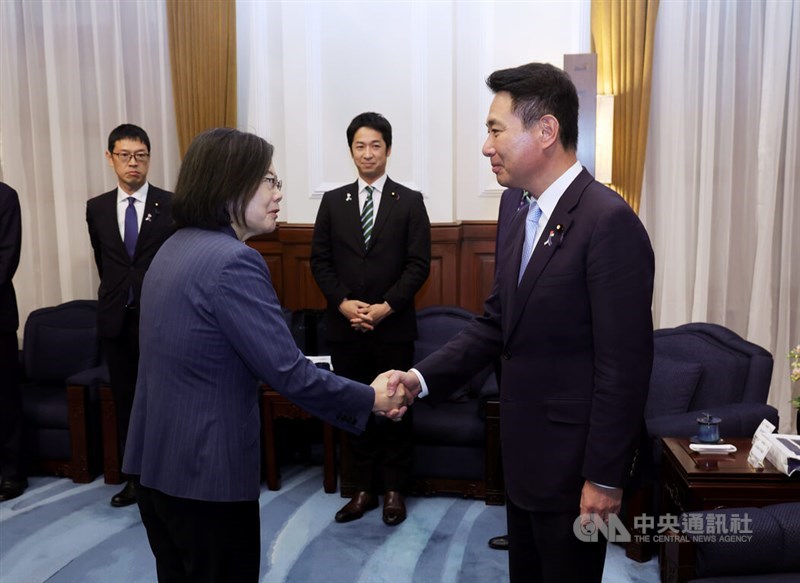 Taipei, July 3 (CNA) A delegation of Japanese lawmakers from three opposition parties has arrived in Taiwan for a visit to build bilateral ties and offer support for Taiwan's accession to a regional free trade agreement.
Led by former Japanese Foreign Minister Seiji Maehara, the 11-member group includes lawmakers from the Constitutional Democratic Party, Nippon Ishin (Japan Innovation Party), and Democratic Party for the People, according to a Ministry of Foreign Affairs (MOFA) statement.
The delegation held meetings Monday with President Tsai Ing-wen (蔡英文), Vice President Lai Ching-te (賴清德), who is also the ruling Democratic Progressive Party's candidate in the 2024 presidential election, and other senior officials.
During a meeting at the Presidential Office, Maehara told Tsai that opposition parties in Japan feel strongly about Japan's relationship with Taiwan and look forward to strengthening it.
Maehara said nations with shared values, such as freedom, democracy, human rights, and the rule of law, should work together to foster a free and open society, which is important for the stability of Northeast Asia.
He also voiced support for Taiwan's accession to the Comprehensive and Progressive Agreement for Trans-Pacific Partnership (CPTPP), one of the largest free trade agreements in the Asia Pacific region, of which Japan is a member.
Maehara pledged that members of the visiting delegation will try to facilitate Taiwan's membership in the trade bloc, Seiji said.
The CPTPP was signed in 2018 by 11 member nations -- Australia, Brunei, Canada, Chile, Japan, Malaysia, Mexico, New Zealand, Peru, Singapore, and Vietnam.
In February 2021, the United Kingdom formally requested to join the CPTPP and became the first non-founding country to join the bloc in March, following more than two years of negotiations.
Taiwan formally notified the CPTPP Secretariat in New Zealand of its request to commence negotiations on accession to the CPTPP in September 2021. A decision by the CPTPP Commission on whether to initiate negotiations has yet to be made, however.
China and South Korea have also applied to join the trade bloc.
MOFA said the delegation will also meet with Legislative Speaker You Si-kun (游錫堃), National Security Council Secretary-General Wellington Koo (顧立雄), and Taiwan-Japan Relations Association Chairman Su Jia-chyuan (蘇嘉全) during their stay.
It will also visit with Ko Wen-je (柯文哲), the chairman and presidential candidate of the Taiwan People's Party, and attend a banquet hosted by the main opposition Kuomintang, as reported by the Japanese news outlet Asahi Shimbun on June 22.
(By Chung Yu-chen)
Enditem/ls