SPECIAL
/
Elite defections a warning to Kim Jong Un: North Korean defector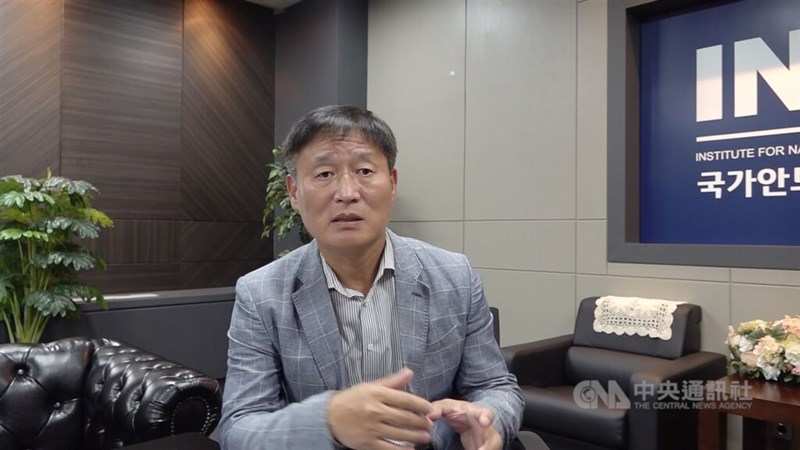 [Editor's Note: This is part one of a three-part series that shares the views of defectors from North Korea as the country becomes increasingly isolated. The series includes interviews with two defectors and an expert on North Korea, which will be published in the coming days.]
Seoul, June 28 (CNA) Defections by members of North Korea's elite class, who generally have no trouble meeting their basic needs, are a warning to the Kim Jong Un regime and catching the South Korean government's attention, a North Korean defector told CNA recently.
There are waves of North Korean diplomatic defections every three to five years when those diplomats' stints abroad end and they have to return home, said Kim Kwang Jin, who himself was posted in Singapore before defecting to South Korea in 2003.
But the reasons behind the defections have evolved over time, and the more recent motivations paint a troubling picture for the regime's future.
"In the past, people who defected did it mostly because of life and death situations, but now the incentives have become more diverse, with the most important one being that North Korea has no hope and no future," Kim said.
In recent years, news of Democratic People's Republic of Korea (DPRK) diplomats defecting or attempting to do so has surfaced in Europe and other places in the world, and it is the defection of these elites that should have Kim Jong Un worried, Kim said.
The phenomenon, he said, signaled the severity of the North Korean regime's problems to the extent that it insisted on launching missile tests and taking provocative action even when the country was in dire straits during the COVID-19 pandemic.
"After living overseas for seven to eight years, they know everything they need to know. Going back is like spending a lifetime with their families in a prison. Many people must be struggling with whether to leave (defect)," Kim said about his former colleagues.
"I hope they don't hesitate and come to contribute to facilitate the reunification (of North and South) and a better future for North Korea," Kim said in an interview with a CNA reporter.
Kim once worked for the DPRK government's overseas banking operations in Singapore to manage a slush fund, known as the "revolutionary fund," for then leader Kim Jong Il.
He decided to fly with his family to South Korea in 2003 when he was summoned to return on suspicion of leaking the regime's information to foreign nationals.
Time for a new approach
Kim currently leads the Center for North Korea Human Rights at the Institute for National Security Strategy (INSS), a think tank run by South Korea's National Intelligence Service.
In his position, he has been able to see how the engagement policy championed by the administration of former South Korean President Moon Jae-in failed to rein in North Korea's weapons development, leading him to call for a new approach by the international community to deal with the regime.
The Moon administration had hoped to persuade North Korea to pursue denuclearization by holding seminars and other diplomatic negotiations, but the policy was proved wrong, he said.
"The policy backfired. North Korea's nuclear weapons have only been strengthened," Kim Kwang Jin said. "It is doubtful, to say the least, that there is even a 1 percent chance of North Korea being willing to denuclearize."
Over the past 20 years since his defection, Kim Kwang Jin said he has consistently upheld the view that denuclearization is not possible for North Korea.
"The current instability and provocative behavior of North Korea is the result of the North Korean regime, not the choice of the North Korean people," he said, and he advocated a harder line in dealing with the regime because it has shown no willingness to cooperate on denuclearization.
The goal, Kim said, should be to bring about societal change and ultimately regime change, which could involve cutting off sources of income for North Korea's government and strengthening sanctions, including banning exports of gasoline.
It might also mean pressing the regime to lift restrictions on access to the internet, food, and freedom of expression, Kim said, because "human rights are the Achilles' heel of North Korea."
Preaching human rights in North Korea is not only consistent with universal values, it is also critical to facilitate a shake-up of the hereditary legitimacy of North Korea regime, he said.
"Other than admonishing the North Korean regime, we must also let people in North Korea know that they have the right to live a better life," he said, though Kim acknowledged the difficulty in achieving that because it will require Beijing's help.
China blocking change
Kim Kwang Jin called on the international community to continue to keep tabs on North Korea by documenting the situation in the country, urging China to recognize the status of North Korean refugees, and rescuing female North Korean trafficking victims, among other things.
"There is a lot that needs to be done," he said.
China and Russia, North Korea's traditional allies, have worked against ongoing efforts by Seoul, however, to urge the international community to eliminate North Korea's sources of illegal income derived from technology and intelligence theft by hackers, he said.
"The main reason for China's lack of cooperation is primarily influenced by the U.S.-China rivalry. China does not want to change the current situation on the Korean Peninsula and is unlikely to participate in oppressive actions against North Korea," he said.
Moscow is not likely to actively participate in international sanctions against Pyongyang either because Russia has relied on North Korea for military backing for its invasion of Ukraine, which has led to closer bilateral relations, he said.
Beijing has more influence over Pyongyang than Moscow because China accounts for 90 percent of North Korea's foreign trade and is where North Korea dispatches its people to earn money and send remittances to help with its foreign exchange reserves, he said.
"If China took action, it would strengthen the severity of the sanctions," he said.
Complicating matters for countries trying to influence North Korea from the outside on denuclearization or human rights, Kim Kwang Jin argued, were the internal maneuverings at the top of the government.
Interviewed in the early years of Kim Jong Un's rule, which began in 2011, Kim Kwang Jin predicted then that his regime would be much more fragile than the reigns of his father and grandfather.
The execution of his uncle, Jang Song Thaek, in 2013, and the assassination of his half-brother, Kim Jong Nam, in 2017 both demonstrated the significant challenges Kim Jong Un faced in consolidating power, Kim Kwang Jin has said in previous interviews.
Now, more than 10 years into Kim Jong Un's rule, although the internal governance structure has changed, it still remains fraught with pitfalls for his rule, Kim Kwang Jin told CNA.
CNA video (in Korean with Chinese subtitles)
Citing Jo Yong Won, secretary of the Organization and Guidance Department of the ruling Workers' Party of Korea (WPK), Kim Kwang Jin observed that the close confidant of Kim Jong Un might pose a challenge to Kim Jong Un's rule in the future.
Seen as second-in-command of the WPK, Jo Yong Won has portrayed himself as a "low-key" party official, but he is "very ambitious," Kim Kwang Jin said.
Meanwhile, the fact that Kim Jong Un's sister, Kim Yo Jong, and his daughter, Kim Ju Ae, emerged publicly one after another as the faces of the North Korea regime were also indicative of the instability of Kim Jong Un's grip on power, Kim Kwang Jin observed.
By giving prominence to Kim Yo Jong in the same way as his father did to elevate his aunt, Kim Kyong Hui, Kim Jong Un was aiming to craft an authoritarian image of himself similar to that of his father, helping to consolidate his power, Kim Kwang Jin said.
Kim Kyong Hui held key positions in the WPK, including being a Central Political Bureau member, and also played an important role in the early years of Kim Jong Un's rule.
But she has rarely appeared in public since the execution of her husband, Jang Song Thaek, in 2013.
The appearance of Kim Ju Ae in the political sphere may be a response to rumors of Kim Jong Un having health issues or an attempt to prevent the excessive power of Kim Yo Jong.
Under such circumstances, Kim Jong Un has pinned his hopes on his achievements in nuclear development because he believes that only success on weapons and missile technology can stabilize his regime, according to Kim Kwang Jin.
View All