Foreign media interest in Taiwan increases amid cross-strait tensions
Taipei, June 10 (CNA) Foreign media interest in and coverage of Taiwan has increased amid rising cross-Taiwan Strait tensions and competition between the United States and China, according to journalists working with those outlets.
Adrien Simorre, a freelance journalist based in Taiwan, said at a talk in Taipei on Saturday that interest in Taiwan, in particular political and military issues, from French-speaking media has risen significantly in recent years.
With cross-strait tensions continuing and the next presidential and legislative elections in Taiwan only seven months away, there are currently six journalists in Taiwan contributing to French media outlets, such as Le Figaro and Mediapart, he said.
In addition to journalists working on a freelance basis, "special envoys" are also sent from the headquarters of media outlets in Europe, he said.
Simorre, who currently writes for Radio France Internationale and Liberation, said when he relocated to Taiwan in 2019 to report the previous presidential election, he was the only one contributing to the French media.
Joyu Wang (王若雨), a correspondent with the Wall Street Journal, expressed similar views, saying when she was working with the American newspaper's Hong Kong bureau, it was "rare" for news related to Taiwan to make headlines.
However, over the past two years, news concerning Taiwan, such as President Tsai Ing-wen's (蔡英文) meeting with U.S. House Speaker Kevin McCarthy in April and the visit to Taipei last August by McCarthy's predecessor Nancy Pelosi, had been front page news.
The journal's increasing attention on Taiwan is "something I've never seen" before, she said, adding that such attention is likely to continue in the lead-up to polling day in January.
"Taiwan is probably the most sensitive topic" as the relationship between Beijing and Washington remains tense, she said, and therefore the elections next year will be closely watched in the U.S.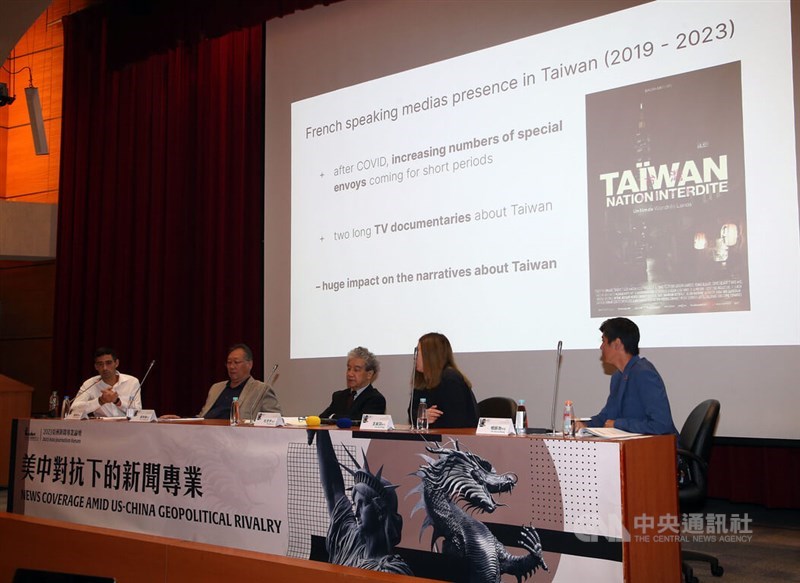 While the international media has shown more interest in Taiwan, many have primarily focused on the political and military tensions between Taiwan and China, Simorre said.
This is not because they have particular political purposes, but rather because such stories are more likely to attract eyeballs, he observed.
In view of this, Wang said she tries to weave other issues she believes are also important into her stories when reporting on cross-strait tensions.
She mentioned in particular the coverage of China's suspension of the import of pineapples from Taiwan in March 2021, in which she managed to discuss Taiwanese society's response to the ban in addition to the political arm wrestling between Taipei and Beijing.
According to Simorre, even if topics mainly focus on Taiwanese society, editors from the French media are likely to prefer their reporters to incorporate some Chinese elements in the stories.
For example, he went on, when writing a story about the Taiwanese pop music scene, a reporter may need to also compare how the freedom of expression in Taiwan has made its music industry different to that in China.