MOU 'starting point' for semiconductor cooperation with Taiwan: Slovak official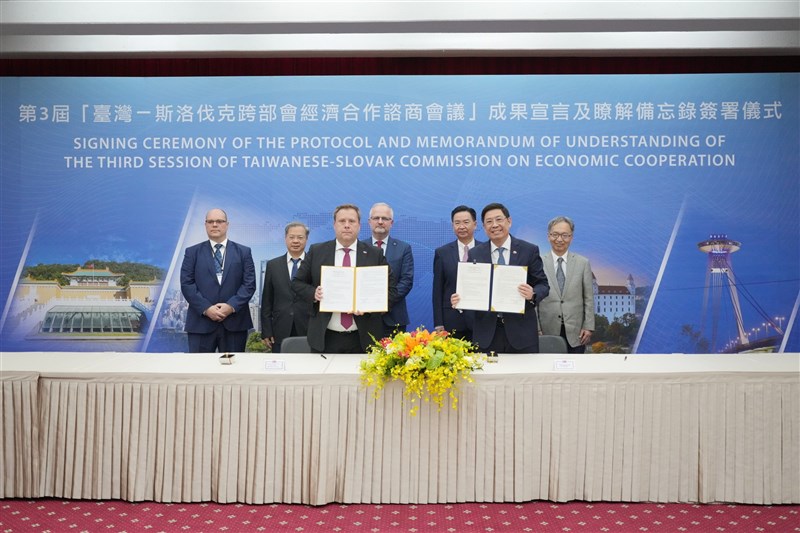 Taipei, June 8 (CNA) A new agreement between Taiwan and Slovakia will serve as a "starting point" for bilateral semiconductor cooperation, Visiting Slovak State Secretary of the Ministry of Economy Peter Švec told a press conference in Taipei on Thursday. 
Švec was referring to the Memorandum of Understanding (MOU) inked between the Industrial Technology Research Institute in Taiwan and the Slovak Academy of Sciences, along with the Slovak University of Technology in Bratislava Tuesday.
Under the agreement, both sides will embark on research and development projects in the area of semiconductors, Švec said, noting he was not able to provide additional details at the moment.
He stressed that the agreement was "important" as Slovakia seeks to develop its semiconductor industry.
Slovakia, he added, not only hopes to cooperate with Taiwan in the field of semiconductors, but also other areas, such as electric vehicles.
"We see a lot of space [for collaboration]," he said, adding that both sides could work together on projects such as developing battery charging stations or e-mobility services.
The agreement on semiconductor cooperation is one of eight MOUs that Švec's delegation agreed with different Taiwanese government agencies and institutes on Tuesday.
The delegation comprising 26 senior Slovak officials and business representatives arrived in Taiwan Sunday, mainly for talks on bilateral economic cooperation, at the Taiwanese-Slovak Commission on Economic Cooperation.
Apart from cooperating in trade, economics, and science and technology, Slovakia is also looking forward to working with Taiwan to provide aid to war-torn Ukraine, Švec said.
"We should not wait for the end of the war ... we should do things and prepare ourselves now," he said, adding that both sides could provide assistance in rebuilding housing and infrastructure in Ukraine.
Another area for cooperation on this issue is that Taiwan could provide humanitarian assistance to Ukrainians who have fled to Slovakia to seek refugee, Manuel Korček, head of the Department of Global Economic Policies under the Slovak foreign ministry, told the press conference.