Democracies must unite to face authoritarian threats: Ex-Australia PM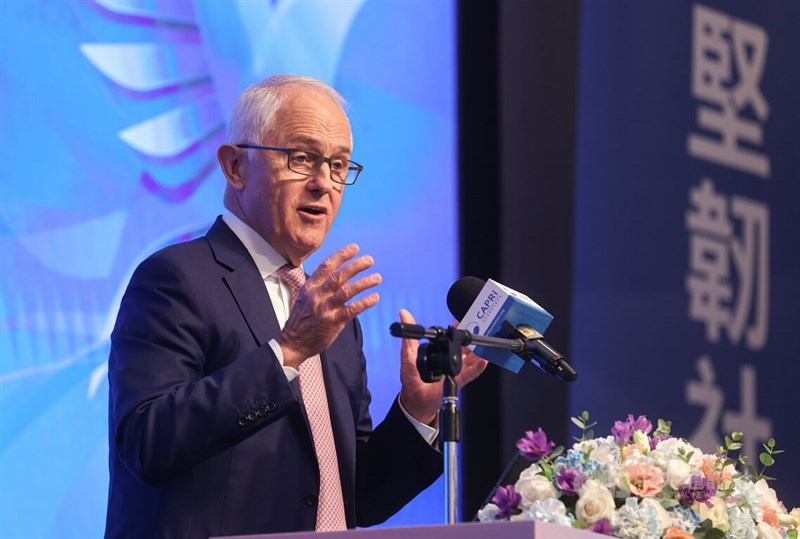 Taipei, May 29 (CNA) Former Prime Minister of Australia Malcolm Turnbull said Monday that Asia-Pacific's democracies must learn from the Russian invasion of Ukraine and stand together to ensure "the strong do not do as they will."
Turnbull made the remarks during a forum in Taipei held to mark the first anniversary of the founding of the Center for Asia-Pacific Resilience and Innovation (CAPRI) think tank.
During a keynote address, Turnbull said the fact that CAPRI had chosen to base itself in Taipei was of enormous significance because "Taiwanese perspectives and experiences are more important than ever."
Turnbull, who served as prime minister from 2015 to 2018, said the challenge of authoritarian governments had gone from "menacing, bullying to the brutal violence of war" in recent years.
While "Vladimir Putin's invasion of Ukraine has seen tanks and armies return to the bloodiest battlefields of World War II," Turnbull noted that Russia's military action had backfired and left the West "more united in defense of democracy than ever."
"Ukraine did not fold up in a few days. The Ukrainian people's will to fight has been as tenacious as it has been courageous. NATO is not divided," Turnbull said.
The former Australian leader added this was a "straightforward lesson" that "democracies must support each other."
Turnbull said that the war had also reinforced the singular objective of all democracies in the region "to ensure that the strong do not do as they will and that the big fish, in Lee Kuan Yew's (李光耀) words, do not eat the little fish."
"Our resolute defense of democracy, and the right of nations to determine their own destiny free from coercion, must never flag or falter," he added.
Turnbull also warned that democracies faced internal as well as external threats.
"Disinformation is more widespread than ever. Promised a marketplace of ideas where the truth could prevail, we are, in fact, drowning in lies," he said.
"In some cases, including here in Taiwan, foreign actors play a role in the spreading of disinformation, fomenting division and undermining trust in government and institutions," he added.
Turnbull proposed fighting such disinformation campaigns directly so that "when lies are told, no matter how crazy [they are] corrected and rebutted with great energy and speed."
Turnbull is making his first visit to Taiwan to attend the Taipei forum.