LGBTQ RIGHTS
/
Over 60% of people in Taiwan back same-sex marriage: Survey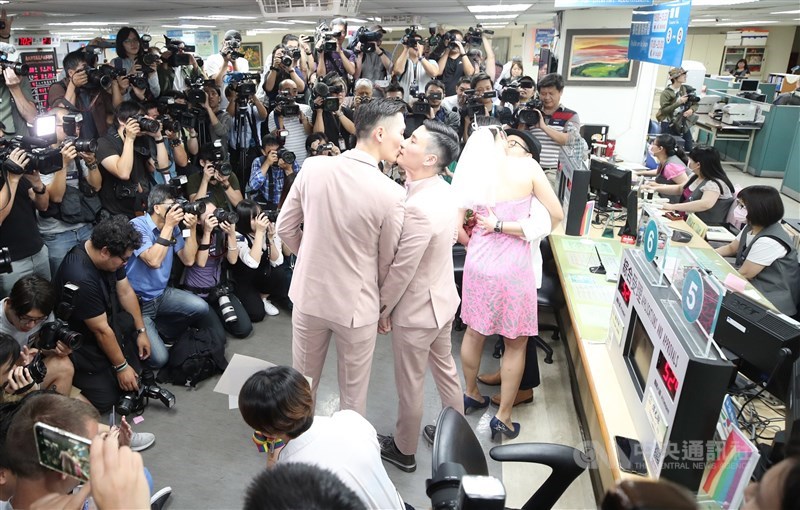 Taipei, May 19 (CNA) An annual government survey featuring questions on gender equality indicates that over 60 percent of Taiwan's public support same-sex marriage, according to a statement released by the Cabinet on Friday, a week ahead of the fourth anniversary of the country's legalization of same-sex marriage (in Chinese, PDF files).
Respondents who believed that same-sex couples should have marriage rights accounted for 62.6 percent, representing an increase of 1.7 percentage points from 2022 and a rise of 25.2 percentage points since 2018 when gay couples were still unable to marry in Taiwan, the Cabinet's Department of Gender Equality stated.
In addition, the survey found 74.1 percent of respondents support the adoption rights of same-sex spouses, a 3.1 percentage point increase on 2022 and a 20.3 percentage point rise since 2018, the department added.
These numbers not only reflect a shift in the attitude of Taiwanese society on the issue, the department said, but also echo a move by the Legislature on Tuesday when it passed legal amendments to allow same-sex married couples to jointly adopt children to which neither partner is related.
On May 17, 2019, the Legislative Yuan passed the Act for Implementation of Judicial Yuan Interpretation No. 748, the law that officially legalized same-sex marriage in Taiwan on May 24 that year.
"The Room of XX," a "promotion film of gender diversity," released by the Department of Gender Equality in 2020
In terms of issues related to transsexuals, the department said 77.3 percent of respondents agreed that transsexuals should be able to wear the clothes they feel most comfortable in when they are at school and work, with 91.4 percent saying they would have no problem working with a transsexual.
Despite a high degree of correlation in opinions on the need to respect transsexuals, the survey, conducted in late April, found public attitude more conservative when it comes to related policies.
For example, only 54.8 percent of respondents agreed that transsexuals and bisexuals should have a third gender option on their national identity card, up 5.9 percentage points from 2022.
In the 2023 survey, only 46.5 percent supported transsexuals being able to change the gender on their ID cards without having to undergo gender reassignment surgery, though that still represented a 17.2 percent increase from 2022.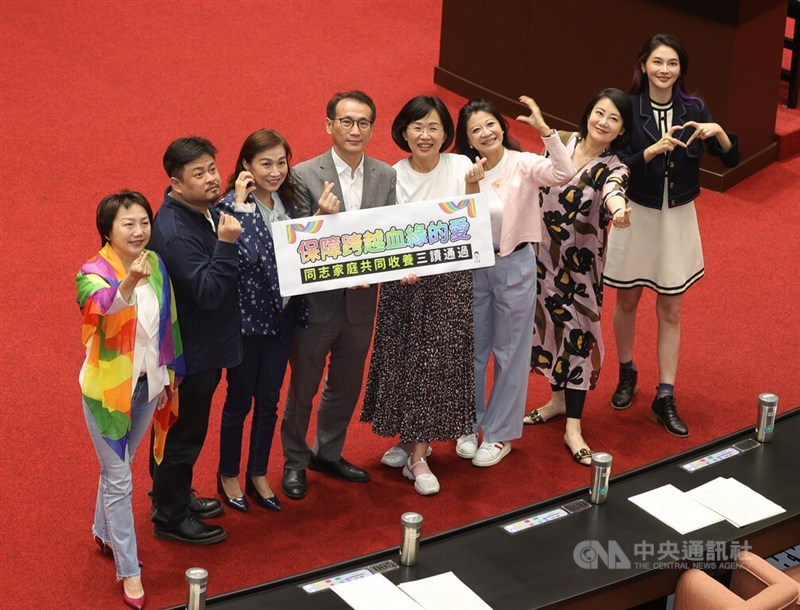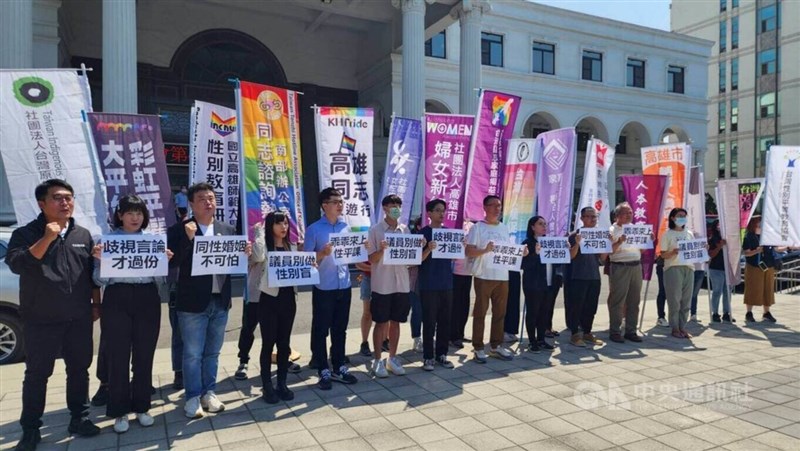 Meanwhile, the survey also identified some movement on traditional concepts related to gender roles and stereotypes, including the idea that women are better suited to looking after babies and less suited to working in the fields of science and engineering, which were opposed by 42.6 percent and 94.3 percent of respondents, respectively.
The survey also asked respondents their opinion on male parental leave and the inheritance rights of married daughters for the first time, with 84 percent and 95.2 percent of respondents voicing support, respectively, the survey showed.
The survey was conducted between April 27-29 among people aged 20 or older via a computer-assisted telephone interview system. It collected 1,076 valid samples and has a confidence value of 95 percent with a margin of error of plus or minus 2.99 percentage points.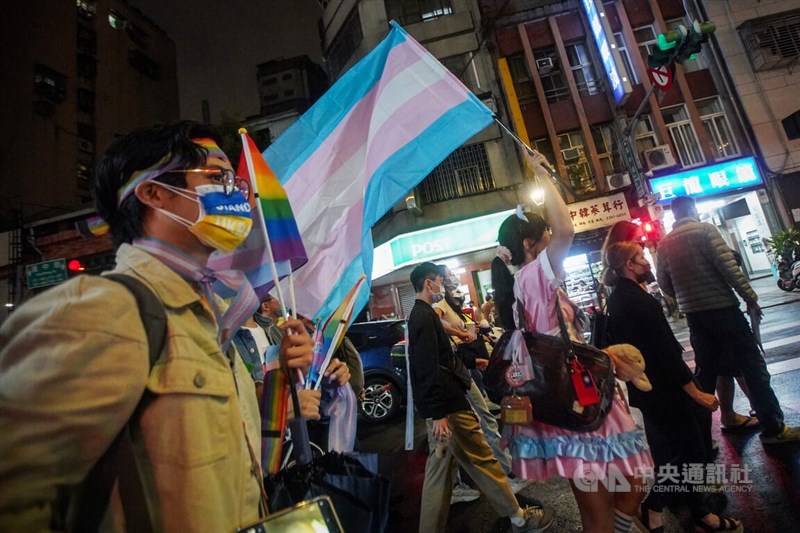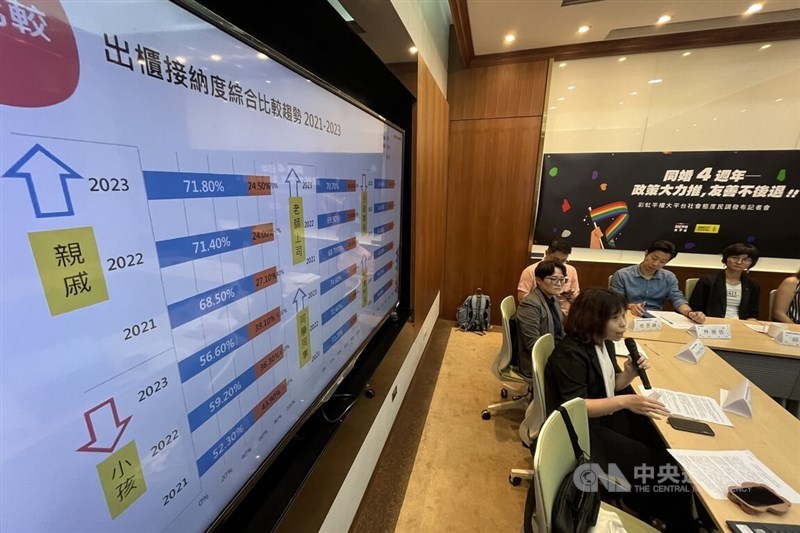 In contrast, the results of a poll released by the Taiwan Equality Campaign on Friday found that despite gains in the overall acceptance of same-sex relationships since same-sex marriage was legalized nearly four years ago, that support has declined slightly in the past year across a range of categories.
The only category in which the poll (in Chinese) showed increased support was for same-sex couples consisting of a Taiwan national and foreign national, hitting a four-year high of 59.1 percent, up 7.4 percentage points from a year ago, the survey found.
But respondents' acceptance of five groups of people -- relatives, bosses or teachers, fellow students or colleagues, top government officials, and councilors or lawmakers -- being homosexual ranged between 62.6 percent and 71.8 percent, an overall drop of 2 percentage points from last year, according to the survey.
Among respondents, 56.6 percent said they could accept their children being homosexual, a 2.6 percentage point drop from 2022, but the figure remained above 50 percent, the LGBTQ+ rights advocate group said in a statement.
The poll was conducted on March 22-23 by a polling company for the rights advocacy group by mobile phone and landline among people aged 18 and above. It collected 1,080 valid samples and had a margin of error of plus or minus 2.98 percent at a 95 percent level of confidence.
View All