Former U.K. Prime Minister Liz Truss to visit Taiwan this month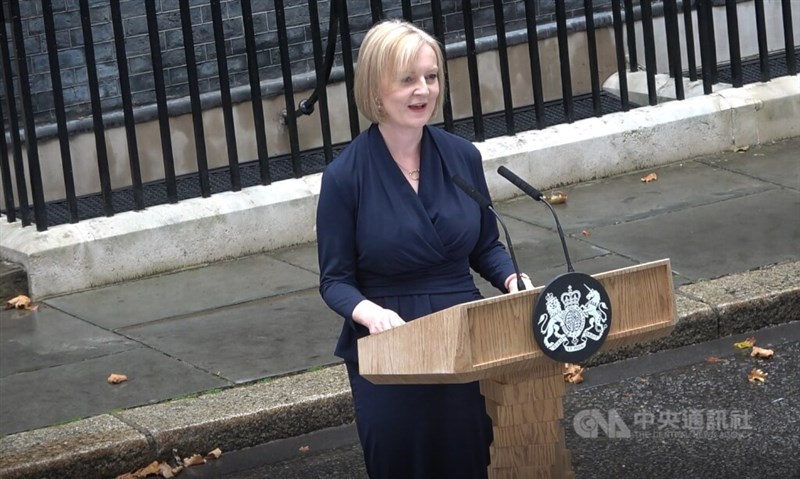 Taipei, May 9 (CNA) Former U.K. Prime Minister Liz Truss will visit Taiwan to take part in a government-funded speaking engagement later this month, the Ministry of Foreign Affairs (MOFA) announced Tuesday.
Truss, who spent a tumultuous 49 days as the United Kingdom's shortest-serving prime minister last year, has been invited to give a speech in Taipei on May 17 by the Prospect Foundation, a government-funded think tank.
MOFA did not say what topic Truss' speech would be on.
Truss is also scheduled to meet with senior government officials and other figures from Taiwan's political, business and academic circles during her May 16-20 visit, according to MOFA.
The ministry did not say which officials Truss is set to meet with during her five-day stay, or if she will meet with President Tsai Ing-wen (蔡英文).
According to a separate press release issued by Truss's office, the British MP is looking forward to the Taiwan trip.
"Taiwan is a beacon of freedom and democracy. I'm looking forward to showing solidarity with the Taiwanese people in person in the face of increasingly aggressive behavior and rhetoric from the regime in Beijing," Truss was quoted as saying in that press release.
According to MOFA, Truss is considered a Taiwan-friendly British politician who has on multiple occasions publicly stated the importance of ensuring peace and stability across the Taiwan Strait.
As a prime minister, she said in a CNN interview on Sept. 2022 that London and its allies needed to make sure Taiwan was able to defend itself.
Truss said her government was working with its G7 allies, including the United States, Japan and Canada, to reduce "strategic dependency" on China and to ensure they have a "common response" to the threat of Beijing's military aggression.
When Truss was U.K. foreign secretary, she also expressed support for Taiwan on several occasions.
In a speech titled "The Return of Geopolitics" in April 2022, Truss called on the North Atlantic Treaty Organization (NATO) to be ready to tackle global threats by working with Japan and Australia to ensure order in the Pacific.
"And we must ensure that democracies like Taiwan are able to defend themselves," she said at the time.
When U.S. House Speaker Nancy Pelosi made a visit to Taiwan in August 2022, Truss also said it was "well within her [Pelosi's] rights as speaker of Congress to visit the island's capital Taipei."
The real issue was the retaliatory action by China, Truss said then, referring to the unprecedented large-scale military drills China held around Taiwan after Pelosi's visit, according to MOFA.
Update
May 17: Interview/No guarantees when negotiating with China, ex-British PM says
May 17: China should not 'dictate' who can come to Taiwan: Liz Truss
May 16: Former U.K. Prime Minister Liz Truss arrives in Taiwan